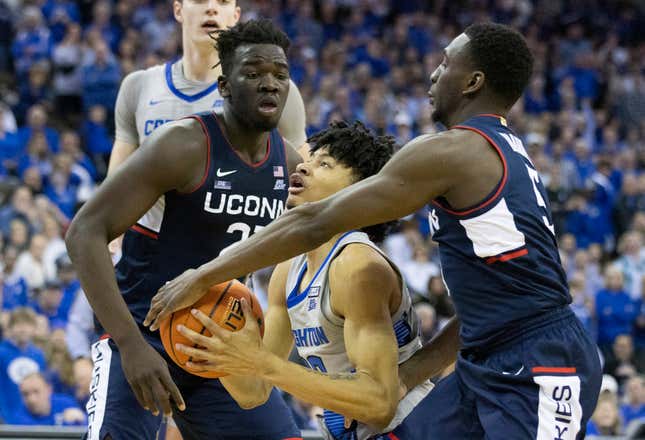 UConn men's basketball looks like the favorite heading into this weekend's Final Four in Houston. Not only are the Huskies the highest seed remaining of the quartet, they've looked dominant in every March Madness game. Turns out UConn's 15-point second-round victory over St. Mary's was its closest margin of victory thus far in an NCAA Tournament full of upsets and close games. Dan Hurley's squad won its other three tournament games by a combined 75 points, including a 28-point blowout of Gonzaga in the Elite Eight.
Grant Hill looks to repeat Team USA's 2004 "success"
As the national championship game is only 40 minutes away, with Miami standing in UConn's way, one underrated part of basketball might come into play for a trio of Huskies, as Saturday falls within the 30-day window of Ramadan, the ninth month on the Islamic calendar observed as a period of fasting and prayer, among other things. Those observing Ramadan aren't allowed to eat from sunrise to sunset with some who partake in the festivities eating as early as 3 a.m. to not miss breakfast. Adama Sanogo, Hassan Diarra, and Samson Johnson all celebrate Ramadan and are following those dietary guidelines, which were in full effect for the Sweet 16 and Elite Eight, as it started on March 22.
Sunrise is slated for 7:11 a.m. on Saturday in Houston, more than 12 hours before tipoff against the Hurricanes. Sunset is scheduled for 7:40 p.m., nine minutes before tipoff. Before the game against Gonzaga, UConn's support staff had food and drinks ready for the three to eat. Saturday will likely be more of a Joey Chestnut-style scarf-down during pregame introductions. And I'm sure few nutritionists believe fasting for half a day before a major athletic event is the way to go. At the same time, it's great to see the Huskies' trio not sacrificing their beliefs to win a trophy.

The UConn trio aren't the only ones of Muslim faith still playing college basketball this season who are fasting. North Texas' Moulaye Sissoko and Rasheed Browne are also taking part in the holiday, as the Mean Green won their NIT semifinal on Tuesday night against Wisconsin. Several other high-profile athletes have gone through similar fasting, yet competing, scenarios. Enes Kanter Freedom did it for years in the NBA, WWE's Mustafa Ali also competed without eating for several hours before, as did professional boxer Amir Khan.