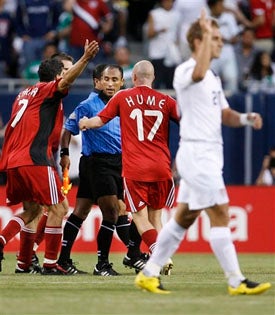 If you're like us, Thursday was Soccer Day at your house, as you refused to budge from in front of your TV while the U.S.-Canada match raged on. Also, you would only pass the dip with your feet. OK, we didn't watch a minute of it. But from what we understand, Canada thought it had the tying goal in the final minute of stoppage time, but it was waved off for offsides, allowing the U.S. to win 2-1.
The United States will play Mexico, a 1-0 winner over Guadeloupe, in Sunday's final for a berth in the 2009 FIFA Confederations Cup in South Africa.
Canada is, um, not taking this well.
Our only question: What's up with the yellow shoes?
U.S. Hangs On To Beat Canada In Gold Cup [MSNBC]
Doesn't That Put The Hose In Hoser [Out Of Left Field]