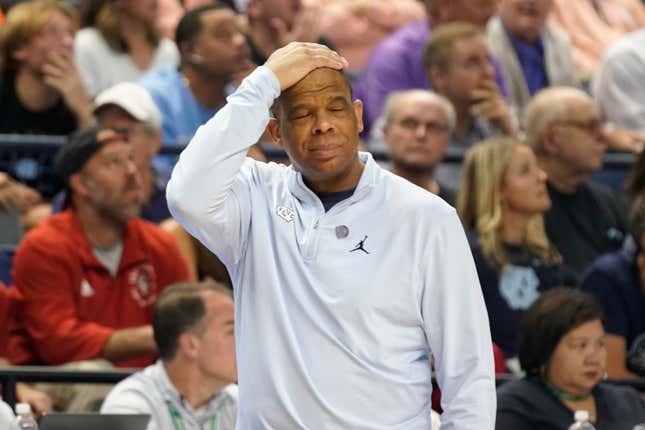 Being the only one of your kind in "the room" is an honor as much as it is a burden. Ask women, Black people, or anyone from a minority group who has been in that position, and they'll tell you about the pride that comes with being a needed representative for your community, along with the weight of being the voice for an entire group of people. You have to pick your spots, but making yourself invisible is inexcusable — and North Carolina men's basketball coach Hubert Davis is hiding in the corner.
How running an NFL team is like running a restaurant | Chef Emeril Lagasse
Earlier this week, the University of North Carolina was embroiled in another "scandal" that dealt with race, and once again the school's most visible and well-known employee — Davis — was nowhere to be found. "Nearly six months after the Ida B. Wells Society [named after one of America's first prominent female Black journalists] for Investigative Reporting notified UNC-Chapel Hill it would be moving to Morehouse College [an HBCU], the university has yet to transfer all of the society's funds — nearly $4 million — to its new home," read the opening paragraph of the report from NC Newsline.

"This is all of our funding," Nikole Hannah-Jones, the Pulitzer-winning journalist and bestselling author who cofounded the organization, told NC Newsline. "It's all of our operating funding, all of our grant money, our quasi-endowment. Without it, we can't work toward our mission, we can't do any of our work."
Back in 2021, Hannah-Jones was at the heart of a controversy with UNC after she joined the faculty of Howard University — another HBCU. She did so after UNC trustees voted to grant her tenure, but only after they had originally voted against it. Why would a university not give tenure to a world-renowned journalist? Because some of the powers that be were upset that her Pulitzer Prize-winning "1619 Project '' which focused on the history of slavery in America, and how America was built off of it, was making a huge impact.

Check this out from NPR:

"Some of that opposition came from Walter Hussman, a UNC donor and Arkansas newspaper publisher whose name adorns UNC's journalism school. Hussman, who is also an alumnus, told NPR he was given pause by some prominent scholars' criticism that Hannah-Jones distorted the historical record in arguing that the protection of slavery was one of the Founding Fathers' primary motivations in seeking independence from the British. (Hannah-Jones has recently tweeted she will be able to back up that contention in a forthcoming book.)"
To be clear, UNC's "hiccup" in transferring the funds was nothing more than retaliation for Hannah-Jones telling the school "thanks, but no thanks" after the scandal put a black eye on the university.

But what does this have to do with Davis? It's all connected. I'll explain.
Where Hubert Davis fits into this
Davis is one of the most well-known players to ever play at UNC. He was an assistant when the NCAA alleged that the school had fake classes to help keep football and basketball players eligible. Guess what the classes were — African-American Studies courses. The kind of curriculum that would teach Black students, and white ones, some of the things that are in Hannah-Jones' "1619 Project," which is the kind of knowledge that people like Hussman want limited.

To make matters worse, you would think that UNC would be the place where something like this wouldn't happen. In 1967, Charlie Scott became the first African-American to play on the varsity basketball team at UNC, and he was the first Black scholarship athlete at the school — and it's all because legendary coach Dean Smith was willing to break the color line in his program, on that campus, and in the Atlantic Coast Conference (ACC).

"Everything that I do is filtered through what I think Coach (Dean) Smith and Coach (Bill) Guthridge would do," Davis said last year. "I know that they're not physically here with me, but it's very important for me to make them proud."

Well if that's the case, then a white man in the South set a precedent in the 1960s that a Black man in the 2020s hasn't dared tried to follow. Davis set the tone that he wanted nothing to do with racial issues on his first day on the job.

People, especially Black folks, are still wondering what his wife, her race, and their kids had to do with anything. Davis was asked about the importance of making Black history at a program that broke the color line in the South, at a school that had a history of having fake classes about Black history, and, yet, he found a way to "All Lives Matter" his answer.

This is why it hasn't been surprising that Davis has been so quiet about these issues. And whatever quotes or quips you might find from him on the subject, simply aren't enough. Davis is an alum, which means he knows the plight of Black people on that campus better than anyone.

If a school can count the number of Black head coaches it's ever had on one hand, it says a lot. Davis is the face of the most prominent athletic program on the University of North Carolina's campus — a place that's a "basketball school." There's great power, and responsibility, in that. Hubert Davis just refuses to accept it.