Through three quarters, North Carolina managed to contain Dalvin Cook and the Florida State offense while still being explosive on offense, per usual. This allowed the Tar Heels to head into the final period up 28-14 on the No. 12 Seminoles. UNC ended up needing a miraculous 54-yard field goal from senior kicker Nick Weiler to lock up the upset after Cook and Co. reeled off 21 fourth-quarter points to take a 35-34 lead.
With four seconds remaining—after North Carolina quarterback hit Mack Hollins for a 23-yard gain and a helpful pass interference call on Florida State—Fedora opted not to take the Tennessee route to victory, instead relying on his veteran kicker, who, as it turns out, was more than ready for his time in the spot light. Weiler's career-long boot gave the Tar Heels the win and the kicker the confidence to sprint past the Seminole faithful waving his arm, mocking the fan base's infamous "Tomahawk Chop."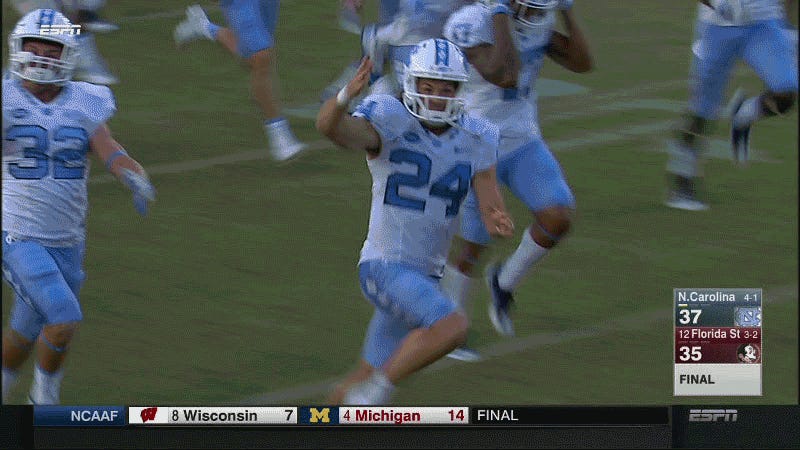 It's not the first time an opposing team has used the chop—Oregon players laid the treatment on thick after shellacking Jameis Winston and the Seminoles in the college football playoff semi-finals in 2015.