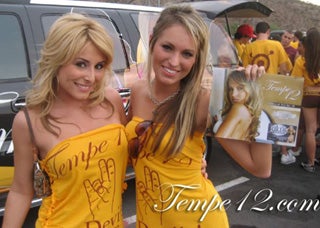 Boston College got things off to a good start for the undefeated teams back on Thursday night. By the time Monday morning rolled around all four of the unbeaten BCS schools remained perfect. The Sun Devils of Arizona State came out with the most significant-and perhaps most unexpected-victory of the weekend when they soared past Cal 31-20. It was the first win over a ranked team for the number four team in the BCS. Surely the celebrated late into the desert night with the fine young ladies at The Library.
Earlier in the evening Ohio State visited the concrete hellhole deceitfully titled "Happy Valley" for a matchup with Anthony Morelli's fragile psyche. God damn, that guy is fucking awful. Chris Wells ran roughshod over the Nittany Lions' allegedly stout defense, and he did so on a busted ankle. Todd Boeckman was accurate and effective all night, finishing with three touchdowns.
In the ugliest game of the bunch, the Kansas Jayhawks topped the wretched Aggies of A&M 19-11. I imagine it was as exciting as the score would indicate. Brandon McAnderson set the tempo with 183 yards on the ground. Oddly enough, all the scoring came in the second half.
I don't care for for the Big 11 or the Big 12 very much right now.