Under Armour doesn't just make ugly shoes, they also come up with dumb slogans too.
Darren Rovell reports, and a quick search of the U.S. Patent and Trademark Office electronic system confirms, that Under Armour filed for a handful of new trademarks in the past month. Under Armour is trying to cut into Nike's market share, and their most marketable player by far is the Golden State Warriors's Stephen Curry. Their next biggest basketball star, according to HoopsHype, is ... Brandon Jennings? Enes Kanter?
Anyway, Rovell reports that the following trademarks are all related to Curry:
The Patron Saint of Underdogs
The League's Most Unguardable Player
The Game's New Creative Genius
Baby-Faced Assassin
Fall Back
Charged By Belief
Goddamn, those are terrible! Can't you just imagine laughing as some corny announcer screams "and a deep three from The Patron Saint of Underdogs!" And these were only the phrases that Under Armour thought were good enough to spend their time trademarking; can you imagine what these overpaid marketing executives came up with that was worse? Rovell even reports that one of the phrases, "Charged By Belief," is already in use by Under Armour.
These aren't the only trademarks Under Armour has filed for recently, however. It isn't clear if these are related to Curry, some other player, or the overall Under Armour brand, but in the past six months they've trademarked:
Get Your Feet Straight
Slay The Next Giant
Charged Cushioning
The Future Is Ours
Racecase
No Art For Art's Sake
I Will What I Want
Earn Your Armour
Go Where You Don't Belong
The Athletes Of The Next Generation
Marketing, man.
G/O Media may get a commission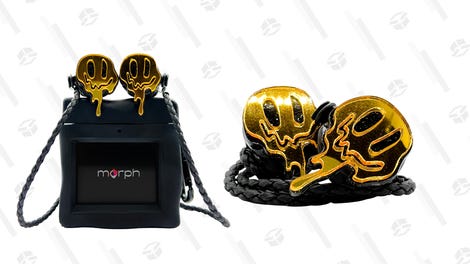 morph audio
Morph Earphones
---
E-mail or gchat the author: kevin.draper@deadspin.com | PGP key + fingerprint | Photo via AP