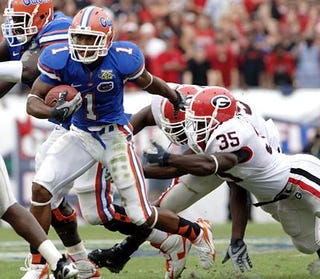 The deadline for underclassmen to declare for the NFL Draft passed at 5:00 p.m. today. So who will give up a lifetime of accounting work to pursue NFL glory and who will continue to have his pick of starry-eyed sorority girls for one more year?
The biggest names announced today were USC's Mark Sanchez and Florida's Percy Harvin, who both chose to go pro. I'm sure Pete Carroll will just pull another pretty boy out of his desk drawer, but how easily can Urban Meyer replace Harvin? I still say Florida doesn't beat Oklahoma without him and perha.... who am I kidding? Florida is unbeatable. Tebow controls us all. They might as well cancel 2009, because is resistance is futile. Sigh.

Notable Names Leaving (full list here):
Mark Sanchez, QB, USC
Percy Harvin, WR, Florida
Michael Crabtree, WR, Texas Tech
Nate Davis, QB, Ball State
Andre Smith, DT, Alabama
Knowshon Moreno, RB, Georgia
Matthew Stafford, QB, Georgia
Chris "Beanie" Wells, RB, Ohio State
Donald Brown, RB, Connecticut
Jeremy Childs, WR, Boise State
Shonn Green, RB, Iowa
P.J. Hill, RB, Wisconsin
Ricky Jean-Francois, DL, LSU
Jeremy Maclin, WR, Missouri
Aaron Maybin, DE, Penn State
LeSean McCoy, RB, Pittsburgh
Sean Smith, CB, Utah
Brandon Williams, DE, Texas Tech
The only real surprise is that not one of the big three QBs—Tebow, Bradford, McCoy—will be going. They were the three finalists for the Heisman Trophy and that means the three best teams in the college football will be returning mostly intact next year. Yay! Nothing will ever change and things will be perfect forever!
Notable Names Staying:
Tim Tebow, QB, Florida
Sam Bradford, QB, Oklahoma
Colt McCoy, QB, Texas
Jermaine Gresham, TE, Oklahoma
Brandon Spikes, LB, Florida
C.J. Spiller, RB, Clemson
Greg Hardy, DE, Mississippi
More names here [Yahoo]. You're on the clock, Lions. (Like it matters.)