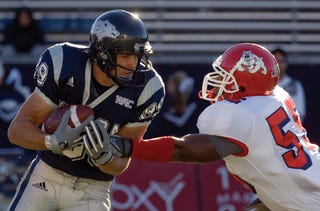 Here's a brilliant display of a group of collegiate athletes woeful abandonment of alcohol-imbibing responsibility, as three University of Nevada football players were pinched over the Memorial Day weekend for DUIs, including senior wide receiver, Mike McCoy, pictured holding the ball in a less inebriated state.
Every Day Should Be Saturday, in its ongoing Fulmer Cup coverage, provided this cutting assesment of the Wolf Pack's wanton disregard for public safety:
The Wolf doth travel switfly–nay, too swiftly, and with too erratic a gait thrice in a night. For such plenty in the department of errant control, Nevada shall be assessed two points for each DUI charge, along with one bonus point for earning all three in one fell swoop. Thus the tally shall stand at seven points for Nevada, who shall fain call cabs for thou'st tipsiest of footballers from this point unto eternity.
Actually, this story says four players were arrested that weekend,which is just fantastic. The University of Nevada athletic department was obviously disappointed and is still determining a fair punishment for its team of reckless sots.