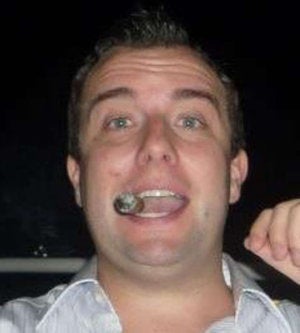 Never heard of Tom Byrne? You mean, you didn't know he hosts a nighttime show on one of Philly's sports-talk radio stations? Come on. What's wrong with you? You're seriously not aware he's been described as "undoubtedly an up-and-coming sports radio personality"? No way. Really? Tom Byrne is a pretty big fucking deal, at least in his own mind. This is from the Philadelphia Daily News, whose own gossip columnist doesn't seem to know who Tom Byrne is, either:
If you're going to play the "I'm a celebrity" card and expect free cab rides, people should probably know who you are. But that didn't stop 97.5 The Fanatic nighttime host Tom Byrne (who?) from using his "celebrity" to try to beat a cab driver out of $5 before allegedly beating him in the street, according to a police report.

[...]

When the driver asked for payment of $5, he said, Byrne refused to pay and said: "I'm a celebrity. This is my neighborhood. What are you gonna do about it?"

The driver said he began to follow Byrne down the street, at which point Byrne, host of a sports-talk show, "grabbed the complainants glasses and knocked them off his face. Defendant punched complainant in face several times and dragged him," said Officer Tanya Little, quoting the arrest report.
Congratulations, Tom Byrne. You really weren't much of a celebrity before, but you are now.
Dan Gross: Radio host in hot water [Philadelphia Daily News]