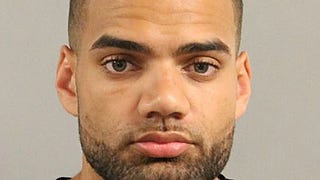 A night after being arrested and charged with three counts, including domestic assault, Jeff Taylor was at it again. According to WILX, the Hornets player was arrested Thursday night around 7:30 p.m. in East Lansing, Michigan for "malicious destruction of a building" about a mile from the hotel where he was arrested Wednesday, on the north side of the Michigan State campus. Apparently the damage was less than $200, but getting arrested twice in fewer than 19 hours is a pretty bad look.
Our original story on Taylor's arrest and the challenge facing the NBA is below.
Update: There seems to be a great deal of confusion as to whether Taylor was actually arrested for a second time.
According to both ProBasketballTalk's Kurt Helin and the Charlotte Fox affiliate's Mike Leslie, the Ingahm County jail confirmed to them that Taylor was in the jail from 7:30 to 9:00 p.m. tonight. Neither was able to get confirmation, however, that Taylor was actually arrested.
WILX is sticking by their reporting.
[WILX]