Ohio State football coach Urban Meyer is back with the program after a three-game suspension from the team for mishandling domestic violence accusations against former assistant coach Zach Smith. To mark the occasion, he is once again trying to set the record straight about Smith's domestic violence and why his, Meyer's, own past statements on the situation sounded so much like lies. In an interview with ESPN, a Twitter statement, and a rambling press conference, Urban Meyer made it excruciatingly clear that he is still missing the point.

In a sitdown with ESPN's Tom Rinaldi on Saturday, Meyer said he was speaking now because he wants the "truth to be out there." Then he promptly tried to obscure the truth about the issue at the heart of the matter: what he knew about the abuse allegations and when. If you'll recall, Meyer first said at Big Ten media day in August that he knew nothing about abuse allegations against Smith in 2015. Then a week later, he changed his mind and said he did actually know about it and followed proper reporting protocol, though he declined to say what that was. In his ESPN interview this weekend, he said:

"I think there's probably a perception that I did try to mislead people, that I tried to not be forthright about everything I knew about Zach Smith, Courtney Smith situation, which was not the case at all."
Which sounds very much like I didn't know I was lying when I lied, whatever that means.
On Monday, Meyer released a statement that said, "I sincerely regret my misstatements at media day." He also apologized for his "failure to adequately manage a troubled employee," saying that "it caused people to question my commitment to our core value of Treating Women with Respect. And it caused them to question my honesty."

G/O Media may get a commission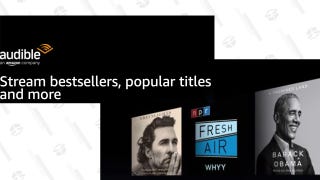 FREE
Audible Premium Plus 3-Month Free Trial
Lying, or "misspeaking," as Meyer repeatedly characterized it in his press conference today, does indeed have a way of making people question your honesty. And now, surprising no one, Meyer is painting himself and his program as the real victim here. He says that he's "truly sorry" for the fact that people lost faith in him; he is explicitly not saying he's sorry for ignoring domestic violence. He emphasized this point in his press conference:
In the press conference he also "explained" why he didn't apologize to Courtney Smith in his earlier press conference, after finding out he had been suspended for three games.
"[During the investigation] I sat in my house and stared at walls for two weeks and it was awful. I was exhausted. And obviously very emotional that I was suspended, I had never been suspended, and then I walk in a press conference and cameras are going, I start getting rapid-fire questions at me and I did not do well, again, at that scenario."
Meyer also made sure to say, in one of his wobbling answers to a question about how seriously he takes domestic violence, how much he respects Title IX:
"Ever since I began as a head coach and even in more recent years, I would say every other day this is very strong—last night I talked to our team about it. We have power unit messages to our players every Thursday and I talk about domestic violence Title IX respect. When I say the word Title IX, our players respond back to me: 'Respect.' That's how serious we take this. This is something that is constantly have conversation. It's not uncommon for me to send a text message out on a Friday or Saturday night that says, 'Remember, Title IX equals respect.'"
Considering that every time Meyer opens his mouth to discuss the situation, he makes it worse for himself, I hope he keeps talking. And next time, someone ask him what exactly he thinks Title IX is.