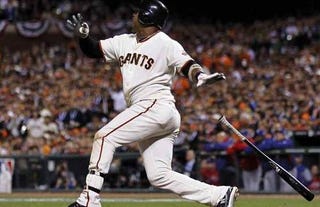 A medical marijuana dispensary in San Francisco is offering patients free joints every time a Giant hits a home run in the World Series. Commendably, Tim Lincecum was still in the dugout immediately following Juan Uribe's fifth-inning blast.
ReLeaf Herbal Center in San Francisco is promoting the local sports scene with free joints for fans present in the shop during each Giants home run in the World Series, and with a special discounted bright-orange strain and a THC-infused orange drink called "Giant Punch."
ReLeaf has been hyping the promotion ("We are burning up with Giants fever!") on their Facebook page. The Giant Punch post came immediately after a special "ReLeaf Field Poll," which asked, "Thinking about carrying medicated pizza pockets...would you try them? They are called pot pockets!"
Four people liked the pot pockets, and a thoughtful man named Mike wrote, "I'm pretty sure I would try just about anything with pot in it."
In related sports-n-substances promotion news, Hollywood's Whiskey Tango All-American Bar & Grill in Miami ("Redneck cool. Trailer-park fabulous. White-trash chic. Blue-collar vogue.") is extending its offer to pay customer's bar tabs for every Heat loss this season.
It's true. In 2010 there's nothing more American than sports, marijuana pizza pockets, and free booze.

San Francisco Pot Dispensary Offering Free Weed for Giants Homers [The Last Angry Fan]

After Heat Loss, Hollywood Bar Pays $4000 in Bar Tabs, Extends Promotion for Entire Season [Miami New-Times]
[H/T Jeff]