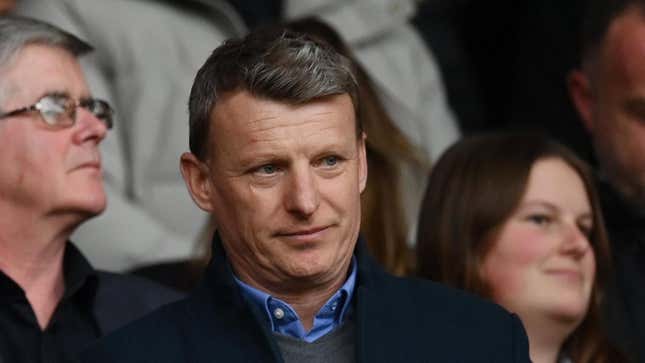 There is always a suspicion that US Soccer has fucked up. They're too insular, too greedy, too cheap, and too weird to ever get out of their own way. Even when it looks like they're taking a step forward, they'll find a way to sabotage it. The Berhalter-Reyna mess is perhaps the perfect example of just how ingrained the weirdness is at US Soccer, and how institutionalized every position, and attitude had become. These were lifelong US Soccer members, which was part of the problem. It was all too connected, and in soccer terms only, inbred.
Can the USMNT avoid the knockout? | World Cup reaction
With the news that US Soccer is set to hire Matt Crocker as the new sporting director, it feels like US Soccer might just understand all the problems they've brought on themselves. But like anything with US Soccer, even when you feel like it's made a good decision that will take the national team forward, you're still Indiana Jones stepping out over the cliff. You're just hoping that something will prevent the fall.
The main headline of Crocker's hiring is that he's a complete outsider. This has been anathema to US Soccer for pretty much its entire existence, even though it's an organization that has been screaming for a pair of fresh eyes to go over everything. That was sort of the idea of hiring Jürgen Klinsmann as manager all those years ago — and Klinsmann actually did a lot of good work under the surface in the youth systems — it just turned out he was a bit of an empty loon. And since then US Soccer has kept to itself. Company men like Bruce Arena replaced Klinsmann, and Berhalter replaced Arena. When the sporting director role was initially created it went to Ernie Stewart, a longtime player, who then hired Brian McBride as GM (whatever that position was, if it was actually anything). It was all in the family.
Crocker is very much not a member of that familiar gene pool. And his resume makes him more than qualified for this role, which is another aspect to get excited about. Crocker comes from Premier League club Southampton, where he's been for the past three years. While Southampton are currently up to their elbow in the relegation fight, they've always been known as one of the best producers of young players in England.
Quite the pedigree
The real pop on his CV is the seven years before his stay at Southampton that he spent with the English national team. Fans will know that timeline covers the post-mortem from England's porous (and hilarious) term under Roy Hodgson to the world power that they currently are (or at least pretend to be, though the record is there). To boot, England's youth teams transformed into trophy-winning machines. They've won the U-19 European Championships twice in the past six years, their U-17s won that level's Euros and World Cup under Crocker's watch. And they've funneled a fair few players through the ranks to make the national team what it is now (Guehl, Foden, Sancho, Gallagher, and Hudson-Odoi were some of the names on that champion U-17 team). More importantly, he was one of the architects in how England shaped, trained, and developed all of its teams under the "England DNA" banner, something US Soccer could use a healthy dose of, and to get out of the travel team/scholarship model that left it behind the world in the first place (and MLS's pivot toward an academy system is a big step for that aim).
Before that Crocker was at Southampton, where they pumped out one Gareth Bale and a few other useful players on bigger teams. Clearly, he knows how to build a pipeline.
Crocker's job will be easier at US Soccer than it might have been in the past, as more and more younger players are coming through MLS teams, and trying to get over to Europe at an early age to develop there. Some of his work will be done for him on training pitches in Germany, Austria, Italy, or wherever else. But that shouldn't stop him from doing a proper flushing of how US Soccer works, which it needs. US Soccer has done a better job of streamlining methods from youth teams to the top, which started under Klinsmann, but it could always use reinforcing.
Crocker obviously won't be influenced by what went on before or how things used to work. Oh to be a fly on the wall whenever Claudio Reyna makes his first phone call. Which is what is really providing hope.
The next question is who will Crocker hire as manager. This is where the brakes get tapped a bit. Crocker wanted to bring Jesse Marsch to Southampton, only to see Marsch balk when he wasn't treated as royalty. Crocker wasn't there when Ralph Hasenhüttl was hired, but the courtship with Marsch and his work with Hasenhüttl to reshape Southampton kind of indicates he's a fan of the "Red Bull" system. Which certainly doesn't dim Marsch's prospects of taking the USMNT job if he wants it, let's say. However, US Soccer have always said that the sporting director will have free reign to hire whoever he likes as manager, and Crocker will have a different list of contacts, and candidates than US Soccer might. The rubber will hit the road when and if Crocker wants to hire someone with a true reputation and might cost more than ashtray change. Or maybe you're a Marsch fan and just don't have the same shpilkes that I have over him.
Still, it's probably a good day when US Soccer decides their own house is too much of a mess to hire someone within to clean it up, and have called for an outside service. It's what a big-boy federation might do. US Soccer with big boy pants? Strange days, indeed.
---
For more of Sam's anti-McKennie USMNT rantings, follow him on Twitter @Felsgate.