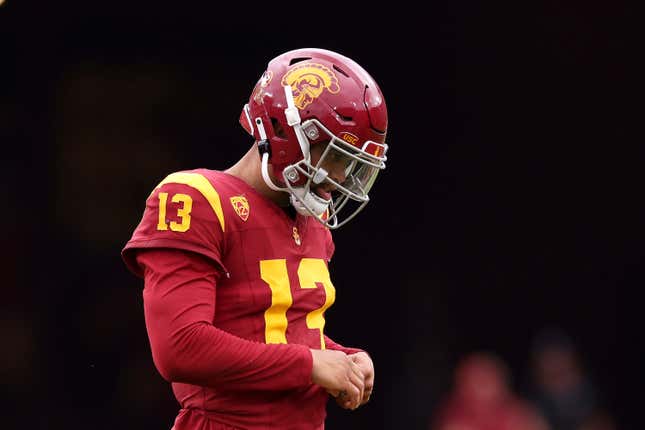 Caleb Williams' father is absolutely right. Carl Williams talked to GQ's Sam Schube for a profile about his son. He said that the NFL Draft system is "completely backwards." After years of playing and training with the best programs at each level of football, Caleb is now forced to go play for the worst one as a professional. He will go from Southern Cal to potentially the Arizona Cardinals — an organization that signed a head coach who wasn't good enough for the NFL to a six-year contract extension and fired him after one season.
5 Richest active NFL players | Money Mondays
Who will have the #1 overall draft pick?
If the Cardinals lose enough games to select Williams in the 2024 NFL Draft, he will be the third quarterback they have selected in the top 10 in six years. Maybe they will make a better decision and trade that pick to rebuild the roster around their 2019 No. 1 overall selection, Kyler Murray.
The Carolina Panthers might end up the worst team this season. If that happens, the Chicago Bears would get the top pick in 2024 and that draft would get quite spicy. Regardless of which franchise gets the pick, the decision on where Williams will play lies with NFL team front offices and not him.

"Going into this next part of my career, it's weird 'cause it's so uncertain," Williams said to Schube. "You don't know anything. You can't control anything but you and how you act. That's honestly the weirdest part for me, is the uncertainty."
His professional future is a bit anti-capitalistic. Coming out of college, he doesn't get to put his services on a free market. His salary is slotted and a franchise chooses him. If that franchise is not ready to properly utilize his skillset, he will suffer. Williams' father said in the GQ piece that if his son doesn't like the franchise that wants to select him he might elect to stay for a senior season at USC.
Los Angeles is great, especially with NIL money, but he is not getting $30 million guaranteed. He should go pro, but do it the Eli Manning way. Williams should inform a franchise he doesn't care for to take a hike.
More athletes should push back against teams they don't want to play for
Athletes refusing to play for the team that drafts them does not happen enough in pro sports. The only cards that they hold are that, if they don't play, they can re-enter the draft the next season. It can hurt the players, but a team getting nothing out of a top draft pick is devastating. That reality is why Manning, Steve Francis, and John Elway all got their wishes and were traded.
A player good enough to be a top draft choice — second overall in Francis' case — should not simply be grateful for the opportunity to play professional sports and bro-hug the commissioner. Labor is not a gift, it is an arrangement. Employee works and employer pays, those are the obligations that each side must fulfill.
Bryce Young could have chosen not to play for the Panthers. If he had, either C.J. Stroud would have been the No. 1 overall pick or they would not have engaged in the trade with the Bears.
Williams cannot change his rookie salary, and he may not be able to hand-pick his NFL destination. What he can do, however, is withhold his services from an undesirable franchise — and he should. Williams has been preparing to be a professional athlete for most of his life. He should not go somewhere that can flush all of his hard work.
The concept of a draft is backward. It's one of many examples of incompetence being rewarded in a country that fancies itself a meritocracy. Williams will be forced to participate in it but, to an extent, he can do so on his own terms.