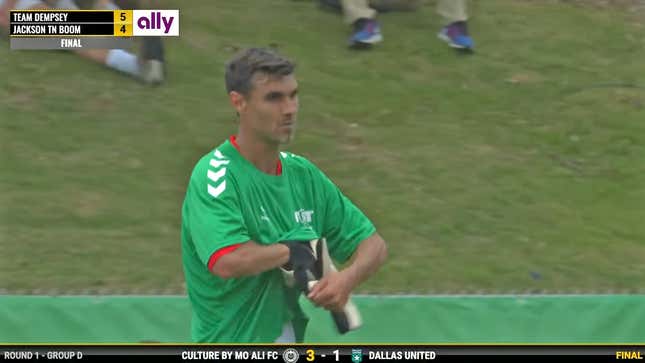 The Soccer Tournament, or TST for short, started its inaugural 32-team, 7-on-7 showcase earlier today and it's a clusterfuck. And like all televised abnormalities of society, at least we get to watch. The nature of the tournament gives way for more unique scenarios to happen, like a goalkeeper scoring a hat trick. And it's even more interesting to know that the netminder was Chris Wondolowski, the former United States men's national team striker, who is playing for Team Dempsey in the tournament. That's right, with head coach Clint Dempsey calling the shots.

Is Lionel Messi the best thing to happen to American soccer? | Agree to Disagree
Wondo moved from striker to keeper
Wondolowski started the game at striker, scoring two goals in two minutes, then relieved starting goalkeeper Luis Robles, a longtime MLSer himself, in net after the former New York Red Bull was inadvertently cleated in the face. We saw Robles reappear on the broadcast after the final whistle, with Team Dempsey winning 5-4, holding a bag of ice to his face. For the final 31 minutes of the game, Wondolowski was tasked with stopping shots instead of scoring them. That didn't stop him from completing the hat trick with a penalty kick. He did allow two goals to the Jackson Boom, but also made a stop under golden-goal rules on a shot from point-blank range. Team Dempsey scored a minute later to win the match.
Wondo's only 40 and retired from professional soccer in 2021 as MLS' all-time leading goal-scorer with 171 during his 18-year career. He's probably best known unfortunately for his close-range miss against Belgium at the 2014 World Cup, where putting in a goal from five feet from goal would've sent the Stars and Stripes to the quarterfinals. Instead, they were eliminated by the land of waffles and frites. Good for Wondolowski to have another big-time performance at TST.