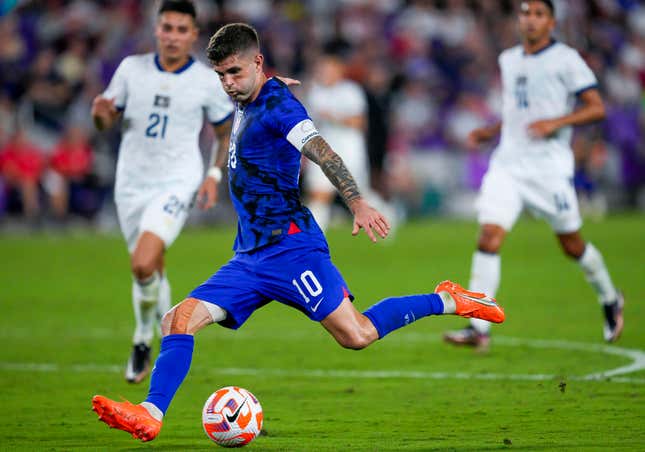 International soccer, especially this season, is highly weird. So while the USMNT's 1-0 win over El Salvador to clinch a spot in the semifinals of the Nations League doesn't look like much — and it isn't — one must consider that most of the squad has been run ragged with their club teams, had a World Cup fisted into the middle of the season, have had a transatlantic flight plus a flight to Grenada and back and two games in four days. It doesn't have to be pretty and frequently won't be.
Can the USMNT avoid the knockout? | World Cup reaction
There isn't much to take from these two games, with Grenada being pretty much a non-entity and then everyone worrying about getting back to Europe healthy. One thing to be encouraged by was that the only MLS player on the roster, Miles Robinson, looked as imperious in central defense as he did before he tore his Achilles last spring. He very well might have been the U.S.'s best player on the night, and had any El Salvador forward in his pocket.
We also learned that against any competent opposition — El Salvador barely qualifies — the U.S. still doesn't have much of a solution when Tyler Adams isn't around. Both Weston McKennie and Yunus Musah are not holding midfielders, and there were a few moments in the first half when they left a four-lane highway for El Salvador to counter through.
The U.S. struggled to find the final cross or pass for most of the match, with McKennie's and Musah's inconsistent passing and positioning being a problem along with some others just having off nights. At least, those were problems until they weren't:
McKennie will pull this filth out occasionally, which makes you wonder how he can struggle to complete a five-yard pass so often. It was also poignant that Ricardo Pepi scored, because the story out of this U.S. camp has been the forward position, and mostly about the forward who wasn't there but soon might be (more on him in a second). Daryl Dike got the start, but was mostly on the periphery. He's a nice blunt instrument to have, but it felt like he was on his heels or waiting for the ball to come to him more than making the runs needed at this level. It was telling that Pepi, within two minutes of coming on for Dike, made this kind of run that forces action, which McKennie was only too happy to oblige. At this level, you have to make the run before the pass is obvious sometimes.
It was timely for Pepi, one because he's angling for a transfer to greener pastures in the summer from FC Groningen in the Netherlands, and two because the USMNT might just be importing the biggest weapon at center forward they've ever had. His name is Folarin Balogun, and he recently pulled out of England's under-21 squad and spent the week in Orlando, where the USMNT just happened to be based for this break.
Balogun has scored 17 goals in France's Ligue 1 this season, only bested by Kylian Mbappe. If he makes the switch, it would be the first time the U.S. have had a true No. 9 banging in goals in a top-five European league since…Clint Dempsey? Who wasn't really a No. 9? Let's just say it's been pretty damn rare. Balogun won't turn 22 until July, fitting the profile of pretty much the rest of the squad, a player who can grow along with the rest of them into the next World Cup on home soil. Balogun is lightning quick and a willing presser, which should both fit into what the U.S. wants to do, though his link-up play could use a little work. But again, he's 21.
The USMNT will try and repeat the summer of 2021 with the A-squad (likely) taking on the two games to round out the Nations League and then a B-team of MLSers and lesser-used players assigned to the CONCACAF Gold Cup after that. It's certainly sounding like Balogun might get to use the Nations League as his introduction to the team. Pepi did his best to make us feel OK about a world where he doesn't.
MLB umpires already in midseason form
MLB umps seem to be ready for the season, i.e. the most thin-skinned douchebags this side of the police, whom they pretty much think they are/dying to be:
Armed with a new set of rules they can enforce, you can expect to see a lot of umps this season getting the rabbit ears when they call for a clock violation from either pitchers or batters, and barely able to conceal their erection when they then get to toss said pitcher or batter for even twitching a facial muscle that could be considered an argument.
The NBA has been rife lately with refs and their itchy trigger fingers, seemingly escalating things on their own to justify their impulsive ejections of players and coaches. It would appear that MLB umpires are not going to be outdone, because that's their job.
You gotta see this Nathan MacKinnon assist
You should probably turn down the lights, light some candles, and get the good stuff out to watch this Nathan MacKinnon pass to Valeri Nichushkin last night: