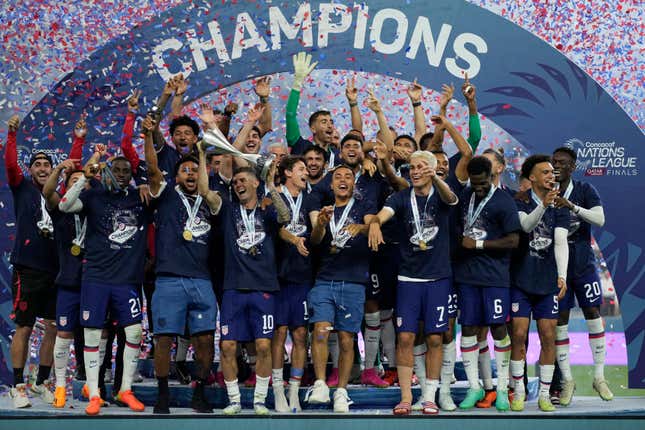 Being a USMNT fan usually involves seeing things that aren't there, or at least things that could be there but aren't yet. It's usually what the team could develop into, or dreaming about flashes being carried over into a full 90 minutes one day, or when an injured player or two returns or makes his international debut or switches allegiances, etc. Sometimes the results are enough, sometimes the performances are enough, but rarely do these two lineup for this particular national side.
Christian Pulisic calls out lackluster attendance at USMNT friendly
At least until this past weekend. The USMNT, after clobbering a borderline-laughable Mexico squad, then simply strolled past Canada in the CONCACAF Nations League Final. Canada may not have the luster or history of Mexico, but also actually have some world-class players, a cohesive team, and a solid structure. They also had beaten the Yanks in their last meeting, a World Cup qualifier in Hamilton a couple of winters ago.
The tables were turned this time, and perhaps the flexibility of the US was the most encouraging thing. Or maybe the most encouraging thing was how many encouraging things there were. Against Mexico, the US killed them with the ball, and their energy, and their dynamism. Against Canada, the US was happy to let them have the ball and dared them to break them down, while also simply scorching the mud-in-the-tire speed of the back three of Canada on the counter. It was the complete reverse of Thursday's triumph, and the complete reverse of what the US tried against Canada in that qualifier.
While Canada had some 60 percent of the possession, they only managed one shot inside the box, and created just 0.66 expected goals while the US piled up 1.94. It certainly helped that the US got an early goal off a set piece from Chris Richards, which only played into their stick-and-move plan for the match.
It is rare to see the US simply outclass an opponent, and then they did it twice in the span of four days. Maybe that says something about the state of CONCACAF too, given that this is the lowest Mexico might have ever been (they fired their coach after seven months in charge yesterday) and Canada in something of a transition from the squad that got to the World Cup. But we haven't seen the US simply sit on the head of the entire region in…well, ever, so it's best to enjoy it. They reached a level that neither Canada nor Mexico could spot with a telescope.
All over the field, you could pick a player who stood out over the two games. The big story heading into the conclusions of the Nations League was the introduction of Falorin Balogun as the #9, and he didn't disappoint. While there are still some connections and chemistry to be established with his teammates, his threat and runs at the opponents' backline opened up all the space that Christian Pulisic or Gio Reyna, or Tim Weah could dance through. His goal is a perfect example, as Reyna's first touch is a little loose, but no Canadian defender wants to step up for fear of letting Balogun in behind. Which he did anyway, after he completely horsed Canada's Scott Kennedy:
It was Reyna's second assist of the game, and his first-half performance was basically magical. It was a shame he had to leave at halftime after getting a kick to his calf, but no one said it was going to be serious or long-term. Weah thrived in both matches, eating up the space that Balogun's runs and Reyna's magnetism of opposing defenders provided. Pulisic had probably his best game for the national team against Mexico, and it says something that this US side didn't even really need him to do much against Canada.
Yunus Musah ably filled in as the deepest midfielder in Tyler Adams's absence, though there will probably be sterner tests than an incompetent Mexico and a Canada team that simply can't attack down the middle. Chris Richards was flawless in both games at the center of defense, Antonee Robinson looked like one of the Premier League's best fullbacks (which he is) for 180 minutes, and Joe Scally stepped in for Sergino Dest against Canada and showed that they have some depth at fullback heretofore undiscovered.
The US paddled two World Cup sides in two different ways, and used a bigger roster of players to do it. They did it with a swagger and joy, which is probably the biggest feather in the cap of one Gregg Berhalter, who created that atmosphere. It was a feeling that lifted a lot of players out of indifferent or straight-up bad club seasons, like Pulisic or Reyna or Musah or Richards. These guys simply love being around each other and playing together.
They won't have a game with anything on the line until November, when the next Nations League/Copa America qualifying will be. That won't be much of a test, and we won't get a read on this team for a year, when the actual Copa starts. Maybe the USMNT is just the biggest kid at CONCACAF recess. Or maybe they're giving us a flash of what they can do against some serious hitters next summer.
See? Even when everything goes right, one is still trying to picture what could be with the USMNT.
---
Follow Sam on Twitter @Felsgate.