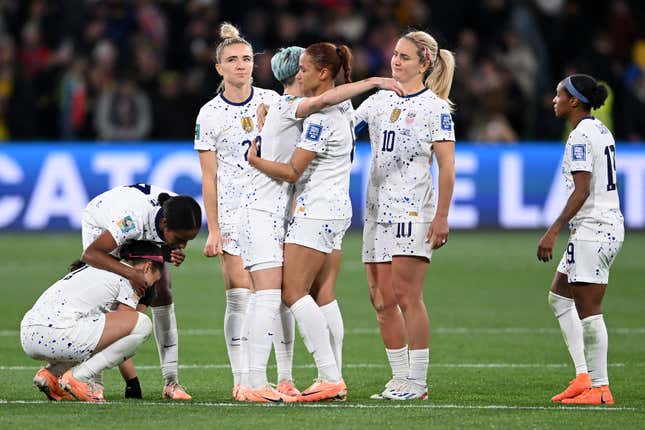 Indigenous Americans were almost eradicated. Black people were enslaved. Asians are mistreated. Millions still want to "build a wall." People of color have been oppressed for centuries, and each group has its own plight. But misogyny has stood the test of time. The overturning of Roe v. Wade, the removal of Affirmative Action, and the celebration of the United State Women's National Soccer Team's recent loss in the World Cup have given us an unholy trinity that foreshadows which "minority" group could be the new focus of inhumane hatred — white women, you're on the clock.
"Don't kill the messenger. This #USWNT is polarizing. Politics, causes, stances, & behavior have made this team unlikeable to a portion of America. This team has built its brand and has derived its power from being the best/winning. If that goes away they risk becoming irrelevant," tweeted Alexi Lalas, American soccer great — and white man — after Sweden eliminated the USWNT in the World Cup on Sunday.
"If you take away that Thailand game, she has scored two goals in the last 17 World Cup games. This is the striker. This is the one who's supposed to be the most dangerous player on the field. Who is supposed to produce goals and she hasn't produced goals since the mid-2010's on the national level. And yet it's Alex Morgan. She's supposed to be the next one. We gotta keep propping her up, pretending she's a superstar. She's not a superstar. She's really, honestly never been a superstar," said American sportswriter — and white man — Bill Simmons.
"Then you have (Megan) Rapinoe who is 37 years old who's just, unfortunately, great career, legendary, true legend, huge big time player, and when you hit your late-30's in soccer, it's a wrap. She looked like Udonis Rapinoe, not Megan Rapinoe, and comes out for the last 25 minutes of this game and can't do anything then misses the penalty kick," he added.
White women, this is what they say about your best and brightest athletes in public. Imagine what they utter in private.
Ideas of "sisterhood" during a moment like this are a pipe dream. Two things are to blame for that: misogyny and the upholding of misogyny by its victims. White women have never been there for other white women. The 2016 presidential election was proof of that. What's come after that, and how many turned on one of this country's most successful national teams, highlights just how much sports and politics are aligned. Pay attention, white women, there's a target on your backs.
The "99ers" broke the glass ceiling. The "53 Percent" are why the 2023 United States Women's National Soccer Team is bleeding from the shards.
The ramifications of Donald Trump's election won't be highlighted by the fact that he was impeached — twice — or that Charlottesville happened — twice — during his tenure. It won't be about all the allegations of sexual harassment and assault, the continuous amount of indictments, nor his eternal beef with the NFL. His legacy will be that he incited the events of January 6 and when his appointment of Neil Gorsuch, Brett Kavanaugh, and Amy Coney Barrett to the Supreme Court, with an eye toward tearing away every bit of progress that's been made over the past six-plus decades.
There's a reason why Barrett was the lone (white) woman on the court to side with the ending of Affirmative Action, while also benefiting from it her entire life.
Don't believe me? Read this:
"While people of color, individually and as groups, have been helped by affirmative action in the subsequent years, data and studies suggest women — white women in particular — have benefited disproportionately. According to one study, in 1995, 6 million women, the majority of whom were white, had jobs they wouldn't have otherwise held but for affirmative action."

TIME Magazine (2013) - "Affirmative Action Has Helped White Women More Than Anyone"

"People often associate affirmative action with efforts to end discrimination for people of color. But scholars say the greatest beneficiaries of affirmative action policies are white women, from college campuses to the American workplace. White women today are more educated and make up a bigger slice of the workforce as a result of decades of affirmative action policies, scholars say. White women have also made inroads into corporate leadership that people of color and women of color have not.

USA TODAY (2023) - "White women benefit most from affirmative action. So why do they oppose it?"

"I have a theory about why it's benefited white women. Because of course, when you benefit white women you benefit white men. White women tend to be white men's partners, daughters, sisters. They're in their orbit. It has been white men who are in the position to decide to enact affirmative action. So if you have to hire somebody, who are you most likely to hire? Someone who reflects you and your interests."

Politico (2023) - "What Women Have Gained From Affirmative Action"
Those pink hats didn't save white women when they took to the streets to "protest" the election of Trump. In the same way, their proximity to white men hasn't protected them from misogyny, nor will it prevent further damage in the future — a lesson that Rapinoe admitted she had to learn the hard way.
"In the days after kneeling [in support of Colin Kaepernick], I realized I had called it wrong," she wrote in her memoir, One Life. "There is a particular kind of baffled outrage reserved by white people for other white people they consider to be 'betraying' their race."
Racism and hate are the foundations of what America was built on. And in this country, the world's most popular game — soccer — is still considered a "white sport." It's why the typical image of a Caucasian woman with kids is deemed a "soccer mom."
And yet, too many were still shocked, disappointed, or puzzled by the reactions of white men who celebrated when a team full of white women who spoke their minds and used their platforms lost on an international stage, because they had "forgotten their place." This was bigger than a game, and it's larger than sports. But it was a great example of how politics, sports, race, and culture intersect with each other. And more importantly, it was a harbinger of white women's potential fate. Sooner or later, they're going to do y'all like they've done everybody else. That is, unless the group that marries, births, and protects white men more than any other group finally decides to do something and holds them accountable — for once.