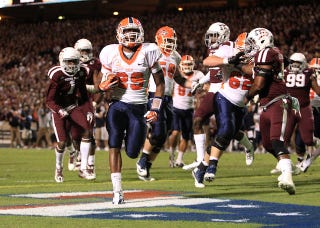 Rushing for a career-high 237 yards and three touchdowns must have felt incredibly sweet for UTEP sophomore running back Aaron Jones. But add in the fact that this performance came against New Mexico, a school he says stood him up for a planned in-home recruiting visit, and Saturday just might have been the best day of Jones's life.
Here's what Jones relayed about his history with the Lobos after UTEP's 31-24 season opener win:
"They called me and told me my senior year that they were going to do an in-home visit and they never showed up," Jones said. "They called and told me when they were coming, my mom cooked and they never showed up. So I have to take it to them."
Instead of enjoying Mama Jones's Famous Lasagna—and maybe those legs of her son on their squad—the Lobos coaching staff was force-fed two years of pent-up aggression. Quite a bit colder than lasagna.
[ESPN]
Photo: AP
H/t to Matt Hinton