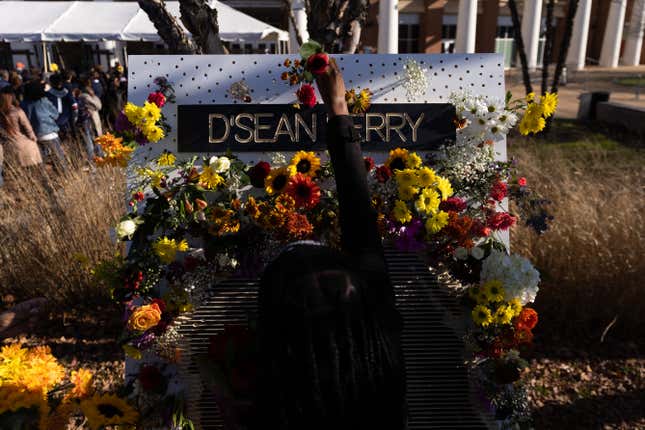 America has its favorites — football, guns, and racism. Charlottesville, Virginia, has all three.
How running an NFL team is like running a restaurant | Chef Emeril Lagasse
Six years after the city was etched into history books after a bunch of racist tiki torchers had a deadly temper tantrum for the world to see, the city that houses the University of Virginia will be hosting an event that features this country's other two favorites — a football game that will honor the victims of America's obsession with guns.
Devin Chandler, Lavel Davis Jr., and D'Sean Perry will be honored before UVA's home opener on Saturday, as it's the first time the team has played on their field since Nov. 12 of last year which was one day before the three players were killed and two others were injured.
And since mass shootings have become the norm in the "land of the free and the home of the brave," life will continue as normal after a moment of silence.
"I felt him hit me in my back," said UVA running back Mike Hollins who was shot but survived the incident. "But I just knew I wasn't going down without a fight. I found a pre-med student, and that was God again. She was there to help me. She kept me calm, kept my breathing under control, was checking my pulse until the ambulance came … I think I got hit in the small intestine, kidney, and they were trying to see if it damaged my bladder. By the grace of God, it missed my spine by, like, two centimeters or something like that."
According to the school, Christopher Jones Jr. — a former student/member of the football team — is the accused gunman who had already claimed to have owned a gun and had been previously convicted of a concealed weapons violation.
Sandy Hook and Newtown were evidence that America would choose guns over anything. Uvalde and all the ones before and after were proof. But UVA was different — well, so some thought. Americans would surely do something since it interfered with their favorite game, right? Unfortunately, just as the games continued so did our government's inaction when it comes to changing gun laws.
According to NBC News, more than half of all mass shootings since 1966 have taken place in the last 20 years. And from 2014 to 2022, America experienced around 4,000 mass shootings, resulting in around 21,000 deaths or injuries. Between 2014 to 2022, Virginia had 97 mass shootings, which is a 1.27 rate per million residents.
According to the Gun Violence Archive, there were 647 mass shootings in the United States in 2022, leading to the deaths of over 44,000 people.
And when it comes to this year, the Associated Press has reported that the first six months of 2023 were the deadliest six months of mass killings since 2006. "From Jan. 1 to June 30, the nation endured 28 mass killings, all but one of which involved guns. The death toll rose just about every week, a constant cycle of violence and grief. Six months. 181 days. 28 mass killings. 140 victims. One country," read the report.
"The President and First Lady are mourning with the University of Virginia community after yet another deadly shooting in America has taken the lives of three young people," said the President in his statement last November. "Our deepest condolences are with the countless families, friends, and neighbors grieving for those killed as well as those injured in this senseless shooting.
"Administration officials are in close contact with state and local officials, and we are grateful for those authorities' swift response to this attack.
"Too many families across America are bearing the awful burden of gun violence. Earlier this year, President Biden signed the most significant gun safety law in nearly three decades, in addition to taking other historic actions. But we must do more. We need to enact an assault weapons ban to get weapons of war off America's streets. House Democrats acted, and the Senate should follow."
Thoughts and prayers will never be able to trump legislation and policy. At this point, either you or someone you know has been or knows someone who has been affected by gun violence. And as time goes by, you or someone you know will have lost someone to a mass shooting — the numbers are unfortunately in your favor.
It doesn't have to be this way, because, like racism, America's gun problem is a curable disease. But as the COVID-19 vaccine taught us, Americans hate being forced to accept free remedies. And if the killing of football players in a country that's addicted to the sport can't do anything about it, it means that more UVAs are in our future. So, here's to all who were affected, and those who will be in attendance in Charlottesville on Saturday. And to the ones that will sadly be in similar situations in the future.