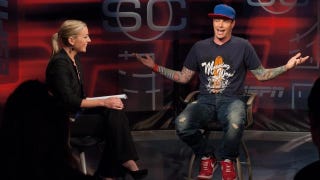 Vanilla Ice was on SportsCenter this morning promoting the new Adam Sandler film That's My Boy, in which Mr. Ice has a fairly big role. He's been making the rounds this week, appearing on the Dan Patrick Show today, and serving as Grand Marshal of Sunday's NASCAR race at Pocono, among other things.
He took advantage of his SportsCenter appearance to plug not only That's My Boy, but also The Vanilla Ice Project, his home improvement show on the DIY Network. The show is inexplicably entering its third season and is presumably inspired by what he called his "new passion in home renovation."
In That's My Boy, Vanilla Ice plays a character named "Uncle Vanny" who he says is "an exaggerated, old Vanilla Ice persona." Adam Sandler plays a dead beat father looking to borrow money from his son, Han Solo (played by Andy Samberg). That sounds like comedic gold! If you weren't convinced already, stop, collaborate and listen:
"What an amazing adventure. I'm telling you, you don't need to join a gym. Just go see this movie, it's that funny. You'll end up with a six-pack at the end."
Well, he sold me. I might just check out the hook while the DJ revolves it.