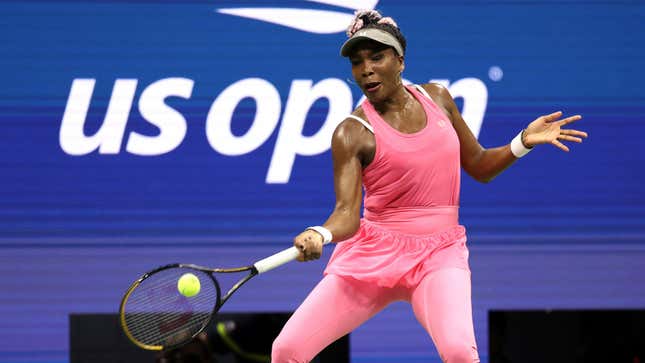 Unlike at this time last year, the central figure of the US Open isn't a Williams sister. Serena's matches were all appointment television, maybe because of the known stakes, being one of tennis' all-time great's last event. And Flushing lost its luster after Serena's third-round exit, until the star-making moment in the men's final for Carlos Alcaraz. The elder Venus Williams was bounced from the first round of the US Open on Tuesday night, with an embarrassing 6-1, 6-1 defeat at the hands of Greet Minnen (yeah, the one and only!), ranked No. 97 in the world entering the final major of the year.
Being a Tennis Gladiator like Roger Federer | Bear Grylls' Ultimate Sports Fantasy
The 43-year-old Williams is in year No. 30 as a professional tennis player. That's not a typo, she turned pro in 1994 and is still going strong today. Although Williams is clearly past her prime, Tuesday's loss was as big a sign yet that she's hanging up the racket sooner than she probably wants. Injuries, a bad night, and an in-form opponent can all be used as excuses as to why Williams lost without putting up much of a fight. But she's no Tom Brady by showing your age like wine. She's had an incredible career, but what's left to prove other than that you can still show up?
Last night's crowd in Queens was electric. It was jam-packed. The traffic getting off the Long Island Rail Road that bisects Arthur Ashe Stadium and Citi Field, the Mets' home venue, was much more crowded for Tuesday night's action featuring Williams, than Monday's, with a headliner of Novak Djokovic. The dreadful Mets are at home against the Rangers and Citi Field holds a larger capacity than the grounds of the US Open. Yet, the foot traffic was tilted toward tennis over baseball, for Williams and Coco Gauff, drawing such celebrity sightings as Barack and Michelle Obama. Williams can no doubt draw fans into the stadium, but those hoping to see anything spectacular were severely let down on Tuesday.
Unlike Serena, who is unquestionably better, Venus' high points in tennis aren't widespread. Five Wimbledon titles and two US Open titles are in the trophy case of the eldest Williams sister. Serena has 23, with more at every major than her sister, including the Australian Open and French Open titles Venus could never grasp. No matter the familial connection, comparing anyone to Serena is a little unfair and a monumental task. It's even steeper without the context of Venus' numerous injuries and Sjögren syndrome diagnosis over a decade ago. Those setbacks robbed us of (likely) several more clashes of the titans, where Williams could've added more to her trophy case. Her legacy isn't in doubt, but the realization of how much greater it could've been lives beside it. Getting blown out in your country's major tournament is just heart-wrenching.
If Williams was smart, the US Open is the beginning of her retirement tour, with a send-off similar to Serena last year at Wimbledon next summer. The All England Club is where the elder Williams had the most singles success and is the sport's biggest stage. Paying homage to her own story and her family's revolutionary pedigree, with how Venus and Serena changed tennis forever, deserves the grandeur of being a main event at the sport's most hallowed ground. Serena got her time in the spotlight, while Venus' only moved the needle in any way for her early exit. That shouldn't be the way Venus has to exit tennis. Planning that victory lap prevents that.