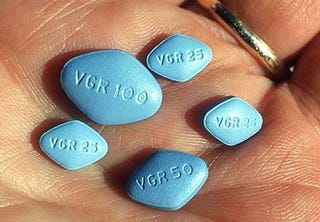 The World Anti-Doping Agency is looking into whether Viagra provides enhancement on the field as well as it does off. According to research, the assisted blood flow that gets your johnson jonesin' can also increase your cardiac performance.
Viagra, or sildenafil citrate, was devised to treat pulmonary hypertension, or high blood pressure in arteries of the lungs. The drug works by suppressing an enzyme that controls blood flow, allowing the vessels to relax and widen. The same mechanism facilitates blood flow into the penis of impotent men. In the case of athletes, increased cardiac output and more efficient transport of oxygenated fuel to the muscles can enhance endurance.
To find out the truth, researchers needed volunteer test subjects. Enter the lacrosse players at Marywood University.
"They're making fun of me," volunteer George Downey, 19, said of his friends and coaches. "Deep down, I think they're looking for tips."
Giving Viagra to testosterone driven college athletes sounds like a wonderful idea. Stay tuned for next year's study on campus date rapes. In related news when told of the new research, recently un-retired Lance Armstrong replied, "Shit".