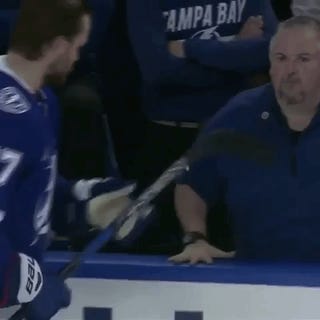 Before every game for most of his career, Tampa defenseman Victor Hedman plays the knife game, aka five-finger fillet, aka mumblety-peg, aka stabscotch, rapidly stabbing the blade of his stick between the spread fingers of Lightning assistant equipment manager Rob Kennedy. While he reportedly isn't always perfect, Kennedy doesn't even look down! Maybe that's for the best.
It's part ritual, part stickwork drill. Here's Hedman going to town before Tuesday's 4-3 win over Toronto, in which Hedman scored a goal, his 13th of the season, so maybe it works.
"It's something we started doing 5-6 years ago and we've just kept it up," Hedman said. "I'm not really superstitious but it's just something I like to do before the game. I've hit his fingers a few times and maybe his face once but Rob's a tough guy. He can take it."
That's easy to say for the guy whose knuckles aren't in the kill zone.
[NHL.com]