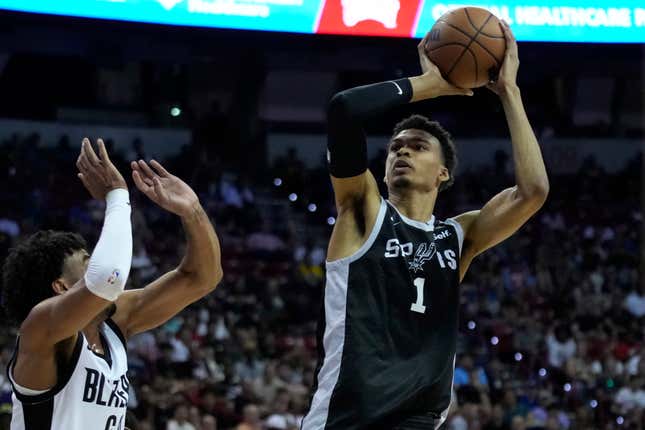 Hyperbole often rules the day in sports media in the social media age. Everyone is almost subconsciously attempting to go viral during every waking moment. Enter former NBA player and current TNT analyst Kenny Smith. While calling a summer league game this week, Victor Wembanyama's name came up in the conversation, and Smith went out on the longest limb possible. The two-time NBA champion proclaimed that Wemby would be the MVP of the association by year four.
Is 60 > 71? Debating Luka Dončić and Donovan Mitchell's record breaking games
"In year four, he'll be the MVP of the league."
No one else on the broadcast was willing to go that far and seemed shocked at Kenny's prediction. This is something we've come to see a lot of lately. Placing these lofty expectations on these young players upon entering the league and then tearing them down when they can't fulfill those prophecies.
We've seen this most recently with Luka Dončić who has been favored by many to win MVP in three of his first five years in the NBA. As great as Luka has been, it still hasn't happened. In each of his five seasons in the association, another international player has swooped in to steal the award ahead of Dončić. Giannis Antetokounmpo (2x), Nikola Jokić (2x), and Joel Embiid have won the MVP award in the past five years.
Now most have returned to their senses on picking Dončić as a clear-cut MVP favorite. That doesn't mean he'll never win MVP, but it might be another couple of years before he accomplishes this feat. The same goes for Wembanyama. There is a very good chance he will win multiple MVP awards during his career, but the odds of that happening by year four are minimal. San Antonio might just be ready to start winning again at that point.
Most people see Wemby becoming a mainstay in the NBA and being an All-Star caliber player, at the least. Some think he's destined to be the next face of the league, but it's clear that he's got the skills to hang with the big boys. Once he puts a little more meat on his bones, he could be hell for even the best defenders to deal with.
As for Smith's comments, it is Kenny Smith. He gets paid to analyze, give his opinion, and occasionally say something off the wall. If you've watched him on Inside the NBA on TNT over the past two decades, then you know he can be just as crazy as Shaquille O'Neal or Charles Barkley when he wants to be. Whether the former North Carolina Tar Heel sticks to his prediction is a story for another day. We'll likely have to wait until October when Inside the NBA returns, and they guys make all their predictions along with Ernie Johnson.