Update (9:17 p.m. ET): The Chiefs have released Hunt.
In a video published today by TMZ, Kansas City Chiefs running back Kareem Hunt repeatedly shoved and then kicked a woman to the ground in a hotel hallway. The incident occurred at The Metropolitan at the 9 in Cleveland at 3:22 a.m. on Feb. 10.
Cleveland.com previously reported it on Feb. 13, but the security camera footage hadn't been released until today. The report said police were called to the hotel, but didn't press charges against Hunt. It identified the woman as 19-year-old Abigail Ottinger; it did not name her friend who was there with her.
TMZ also published three police bodycam videos. A 15-second clip showed a shirtless Hunt being asked by police for his ID. In another, a crying Ottinger said she was outside Hunt's hotel room trying to find a way home when a woman came out of the room and started "coming at" her. Ottinger said that was when Hunt came out and "pushed" and "shoved" her. She said that when she came down to the lobby, she asked the front desk clerk to call 9-1-1 because her phone was still upstairs. According to Ottinger, the front desk person denied her request and said, "That's what you get for being a slut."

In the third bodycam video, one of Hunt's friends said he invited a group of women that he knew through a friend to party with them. He said that the women were drunk, and when he found out they weren't 21, he asked them to leave the hotel room. The man said Hunt's girlfriend asked the women politely to leave, but they refused and started attacking Hunt's girlfriend. He said he thought the women were trying to get in the room because they couldn't find a ride, so he gave them money for a car home. "[Ottinger] started calling me the N-word, calling us niggers," he told police. In this video, Hunt's friend handed the police Ottinger's phone, saying she had left it in their room. He said that Ottinger was drunk and characterized her "a mess," but her friend was calm.
The bodycam videos align with Cleveland.com's February article, which cited the police report from the incident. In the 9-1-1 call, previously reported by TMZ in June, a woman said Hunt assaulted her:
"I was assaulted and I need help."

The operator asks the woman who assaulted her, and she responds ... "I think his first name is Kareem."
G/O Media may get a commission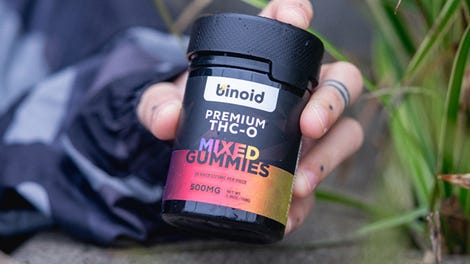 25% Off + Free Shipping
Binoid THC-O Gummies
TMZ reported that it's unclear if anyone from the NFL had seen the video until today. According to Nate Taylor of The Athletic, the Chiefs were unaware:
In June, Hunt reportedly punched a man in the face after a verbal altercation at an Ohio resort, but he did not face charges. Chiefs owner Clark Hunt said in August that he didn't expect the running back to be suspended for either of those incidents.
Update (4:45 p.m. ET): ESPN's Dan Graziano reports that Kareem Hunt will likely be placed on the commissioner's exempt list.
Update (8:26 p.m. ET): The NFL has officially placed Kareem Hunt on the commissioner exempt list and will review its investigation. The league's statement also referred to the video released today as "new information."