Since Villanova was unceremoniously bounced from the NCAA tournament on March 21 by St. Mary's, many emails have been fired off by frustrated alumni explaining how this happened to their precious team. The reason? Corey Fisher impregnated Scottie Reynolds's girlfriend, of course.
The best sports movies according to Toheeb Jimoh
Or vice versa. Here's a sample of the farcical tale filling inboxes of curious Nova grads the past couple weeks, sparked by Reynolds's and Fisher's benching at the start of their first-round game against Robert Morris:
This is an easy one to verify as everyone on the Villanova campus knows it.

Anyway, Scottie Reynolds and Corey Fisher, Nova's two best players, were benched for the start of first round tournament game against Robert Morris, for what Jay Wright called a "minor teaching point."

Reynolds who was an All American this year, was awful the whole tournament and the team seemed off the last few weeks of the year. The minor teaching point and reason behind the demise of this fine Catholic institution's pristine basketball team? Reynolds and Fisher got into an all out brawl the night before the game because Fisher was not only banging Reynold's girlfriend, he got her pregnant.

There's team unity for ya!
Villanova media relations person Michael Sheridan, in a rare moment of a PR person dignifying an email rumor, responded due to the speed with which this spread around campus. "Absolutely no truth to it," he said. And for a more official version:
While we generally don't respond to inquiries based on gossip, the items in the forwarded email are so off base and hurtful to our student-athletes we feel compelled to do so. There is absolutely no truth to the rumors described in those emails. As Coach Wright indicated when it happened, the decision not to start Scottie and Corey against Robert Morris was the result of a minor matter having to do with game preparation.
Right. But it wasn't just the Robert Morris game — if you run it through the sister-of-a-nurse-at-Nova test, this is why the team fell apart down the stretch:
I got confirmation on the Scottie/Corey incident that you told us about….I was just talking to one of our anesthesiologists who is a Nova grad and his sister is currently a professor at Nova and tutors some of the players. Apparently Corey Fisher got Scottie's girlfriend pregnant.

There were several fist fights that occurred outside of practice and the team as a whole chose sides, the DC/Maryland kids against the NYC/NJ kids. All of this happened around December/January, right when the team imploded.

Apparently Jay Wright wants the whole issue gone and despite Scottie's graduation thinks it would be best for the team if Fisher transferred. This would allow him to give Wayns the minutes he needs/deserves and be a huge bonus for Corey Joseph to sign with Nova.
G/O Media may get a commission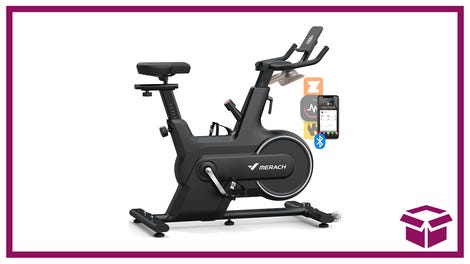 14% off + Coupon
Merach Indoor Cycling Bike
Makes perfect sense. However, there's an eerie familiarity to this tale, particularly since it was also the reason the 2001-02 Syracuse team imploded. In the Syracuse version, Preston Shumpert was the barebacking cheater, and DeShaun Williams was the jilted boyfriend:
According to other drunk people in a bar on Marshall street, Preston Shumpert had gotten Deshaun Williams' girlfriend pregnant. As soon as that rumor surfaced the entire season went down the drain. Over the next 13 games the team went 4-9, missing the NCAA tourney, and making it only as far as the NIT (Nobody Interested Television) semi-finals. After that year Preston failed to get drafted (he was a pre-season lock for the 1st round) and DeShaun transferred to Iona (institution on North Avenue…near my home) to play for the Gales where he slipped into Ryan Leaf-esque obscurity.
And there we have it. So remember, Nova grads, after you received this email from your Main Line friends whose father was a Nova grad and a booster for the team, take into account that the person sending it may have also been the person who saw Tiger Woods fly down to Phoenix for emergency reconstructive surgery after Elin whacked him the face with a 9-iron. That guy is everywhere.
UPDATE: Read this.