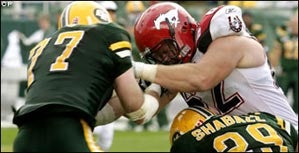 In case you missed your weekly glance at the CFL transactions wire, Edmonton Eskimos linebacker A.J. Gass was suspended for one game after he threw an opponent's helmet across the field. (Mercifully, his head wasn't in it.)
You might think this was an extreme reaction by Gass. But then again, you didn't see what happened before Gass' outburst.
"[Opposing lineman Jeff] Pilon literally had my entire package in his hand and squeezed," Gass told the Edmonton Journal. "People think I flipped out for no reason, but I took the ball crushing. He violated me. I tried to walk away, and then he gave me a shot in the back so hard that I fell. When Comiskey came at me, I just couldn't take it anymore."
As far as bottom-of-the-pile terms go, "he violated me" isn't quite on a par with "he was giving him the business down there" ... but it's close.