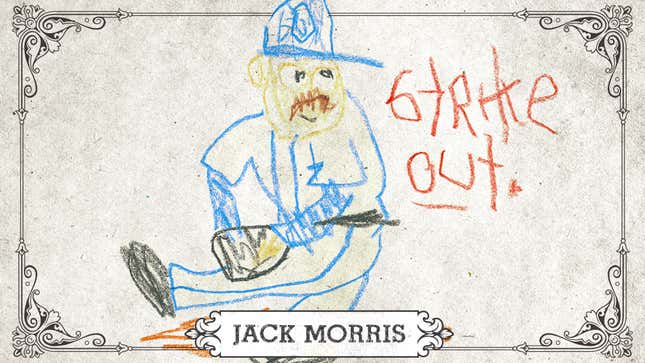 Over the next few weeks, we'll be examining the merits—and relative lack of merits—of all 36 players on this year's Hall of Fame ballot for the purposes of better informing the electorate, i.e., you. All entries in the series can be found here.
Aaron Rodgers should go full Joe Namath | Comedian Bert Kreischer
We all know the story, of course. We all watched. We all remember. We remember every detail, because of the moment, the stakes, the sheer size and weight of the thing, and the greatness that unfolded. But on the eve of his 15th and final vote, let's all relive that game, one more time.
Jack Morris walks to the mound with the World Series hanging in the balance. The chill in the air puts us deep in October, though of course since we're in a dome, it won't be a factor. Really, would it even matter tonight? The man is a bulldog, and this game is his bone. It could be 10 below and he wouldn't walk off that mound—not until the job is done, and he's hoisting that trophy.
This Braves team is no pushover, though, and Morris gets off to a rough start. Otis Nixon leads off with a double to left, and after Morris strikes out Deion, Nixon steals third. Terry Pendleton grounds a double to right, and Nixon trots home. Should we be worried? F that. This is Jack Morris. An inning later they get to Smoltz, with a single, walk, and double—tie game, 1-1. Morris stomps out to the mound, grimly determined not to give up another run. And he doesn't.
Sorry—that was misleading. He doesn't until the fourth, when David Justice homers to right. So what? He was pitching to the score, or something. Whatever, so he gave up two runs, big deal. When they chip another run off Smoltz in the bottom of the inning to tie it back up, we know—we all know—that Jack Morris is going to put this team on his back and carry them to a world championship.
Except that in the next inning Nixon singles, steals second, and comes home on a single by Sanders. Then Pendleton doubles, Morris walks Justice intentionally, and Lonnie Smith hits a grand slam to right on a 1-2 pitch. The Blue Jays are down 7-2, and Morris is out of the game.
Oh—I'm sorry, did you think I was talking about Game 7 of the 1991 World Series? I was talking about Game 5 of the 1992 World Series, when Jack Morris, with the chance to clinch, had this line:
4 2/3 IP, 9 hits, 7 ER, -.459 WPA.
Now, you might say that when judging a man's career, cherry picking one of his absolute worst postseason appearances is unfair. You might also say it's obnoxious. I would definitely say that, and I'm literally in the middle of doing it. But I am super, super, super, super sick of hearing about Game 7 in 1991. If pro-Morris people can put that much weight on a game where he pitched wonderfully and clinched a World Series, I get to remind them about a game the very next year when he had exactly the same chance and got knocked out in the fifth.
I know there are other, far more legitimate arguments that Jack Morris should be in the Hall of Fame, but that game—that one brilliant game—obliterates every other Jack Morris memory, fact, and statistic he piled up. The entire Jack Morris Hall of Fame discussion comes at me through that one lens. And it's bogus. It's wielded like a magic amulet that somehow has the power to silence all rational discussion about his candidacy. It's the reason that some people go bananaballs insane when you tell them you don't think Jack Morris should be in the Hall of Fame, but they don't give two of the world's smallest ant turds that, say, Jim Kaat never even cracked 30 percent of the vote, even though Kaat had way more wins, a lower WHIP, and a better ERA+ than Jack Morris. (Yes, I know wins are stupid. But pro-Morris people will often tell you he was the winningest pitcher of the 1980s—a doubly-stupid and arbitrary argument—so I get to bring up Jim Kaat's win total. What's that you say? I'm being petty and using moronic tactics and stooping to a level I know to be inferior just to prove a point? Well, too late. We're in it now, guys.)
I won't discuss Morris's career stats here, because they're readily available, and if you're reading this and have any vested interest in this debate, looking at them again will not change your mind, whichever side you're on. Jack Morris was a wonderful baseball player, one of the top pitchers of his era. I personally don't think his career warrants inclusion in a building honoring the very greatest players of all time. You may feel differently. De gustibus non est disputandum. But please, I beg of you, leave Game 7 alone. It's a happy memory, but it should not whitewash the entire discussion.
I guess what I'm saying, surprisingly, at the end of the day, is this: Please vote for Jack Morris for the Hall of Fame, because I'm sick of talking about this, and I don't think I can go through it again when he comes up for inclusion through the Veterans Committee.
I guess another thing I'm saying is: Mark Lemke should be in the Hall of Fame.
Ken Tremendous, one of the founders of Fire Joe Morgan, is also well known for writing for The Office and co-creating Parks and Recreation under the alias "Michael Schur." He lives in his mom's basement.
Art by Sam Woolley
---