Executives of the International Association of Athletics Federations—world track and field's governing body—"could not have been unaware of the extent of doping" among Russian athletes nor "the level of nepotism that operated" within the organization, according to a report released Thursday by the World Anti-Doping Agency.
Back in August British newspaper The Sunday Times and German broadcaster ARD released reports based upon access they had obtained to a massive database of blood test results, and alleged widespread doping in the sport and the complicity of the IAAF. In response, WADA created an independent commission to investigate the claims. Their first report, released in November, revealed a state-sanctioned system of doping in Russia, leading that country to be banned from the sport indefinitely, perhaps through the upcoming Rio de Janeiro Olympics.
Former IAAF president Lamine Diack was already arrested by French authorities and charged with corruption and money laundering based on information from the first report. According to the report released today, there was no "appetite" within the IAAF to challenge Russia over its systemic doping, and back in 2013 Diack told the IAAF's counsel that the situation could only be resolved by his buddy, Russian president Vladimir Putin.
According to the report, Diack and a few others constituted a "powerful rogue group" within the IAAF, but also that corruption was "embedded in the organization" and "cannot be ignored or dismissed as attributable to the odd renegade acting on his own." Members of that group are accused of extorting athletes who failed doping tests, to the tune of hundreds of thousands of dollars.
Athletes weren't the only ones extorted. WADA says that after IAAF executives met with Russian officials in 2013 about a "problem" with the Russian TV rights payments for the 2013 World Championships only totaling $6 million, the Russian government-owned VTB bank suddenly signed a $25 million sponsorship agreement with the IAAF. VTB claims this was simply a normal sponsorship agreement, but WADA urges further investigation into it.
G/O Media may get a commission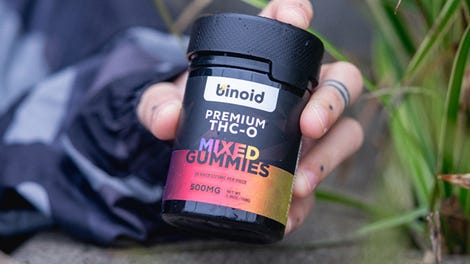 25% Off + Free Shipping
Binoid THC-O Gummies
Despite the report's blistering conclusions about the IAAF as an organization, it doesn't name many names, only broadly concluding that IAAF Presidential Council members had to have known about all this funny business. Current IAAF president Lord Seb Coe, who was an IAAF vice-president for eight years until Diack's resignation, is only mentioned once in the report, and isn't directly implicated.
The report's author, Dick Pound, went so far as to say that Coe remaining in charge of the IAAF is, "a fabulous opportunity for the IAAF to seize this opportunity and under strong leadership to move forward," despite agreeing that as an organization, the IAAF is still in denial about its own actions. As late as yesterday, Coe said "there is no cover-up," before finally admitting today that there has indeed been one. Most of the British papers understandably seem to be calling for his head.
If you thought the corruption scandal currently engulfing FIFA was bad, you haven't seen anything yet. Besides this scandal involving tainted results in addition to good old fashioned corruption, we aren't anywhere close to its conclusion. WADA's report recommended a forensic audit of the IAAF's marketing, sponsorship, and TV rights agreements, as well as a complete reorganization of most functions. The organization also called on police to investigate all track and field world championships awarded between 2009-2019.
Photo via AP
---
E-mail: kevin.draper@deadspin.com | PGP key + fingerprint | DM: @kevinmdraper