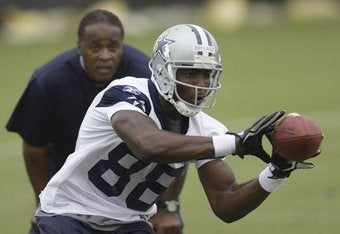 Every morning, the fine folks at Sports Radio Interviews sift through the a.m. drive-time chatter to bring you the best interviews with coaches, players, and personalities across the sports landscape. Today: Cowboys head man Wade Phillips.
The Dallas Cowboys had perhaps the biggest breakout player in the NFL last year in wide receiver Miles Austin. Could they be in for a repeat performance just one season later?
Wade Phillips didn't exactly go that far in his gushing, but he is showing more excitement about his rookie receiver than he usually shows about a first-year player.
The Cowboys had to trade up to get him, but adding Bryant to the mix with Austin, tight ends Jason Witten and Martellus Bennett, a stable of running backs and veteran quarterback Tony Romo should have America's Team in the mix for the NFC crown.
Wade Phillips joined KILT in Houston with Shaun and Barry to discuss how Dez Bryant will impact the Cowboys, whether we'll see further development from Tony Romo and which of his running backs will get the most carries.
On picking Dez Bryant after indicating the Cowboys weren't looking for a new receiver:
We didn't know Dez Bryant would be there that late in the draft. Everybody says that, but we couldn't believe the guy was still there. We did trade up to get him. We thought it was a value pick. I think you've got to try to get good players. That's the key to good coaching, to have good players, and we think he's going to be a good one.
On his excitement surrounding a first-round pick:
He's a real talent. Most players have what we call holes in them. There's something that they can't do well. He seems to have all the tools. … He can run, he can catch, he's very athletic. We're excited about him. Like you said, you don't see many rookies that come in. Of course, usually we're picking later in the draft, which is where we want to be. We don't usually find those kind of players late in the first round.
This post, written by Eric Schmoldt, appears courtesy of Sports Radio Interviews. For the complete highlights of the interview, as well as audio, click here.
More From Sports Radio Interviews

Darnell Dockett: "Our team is ready to prove a lot of people wrong."
Team USA Is Poised To Bring Back Gold From Turkey
Ryne Sandberg Is Ready to Make he Jump to the Majors