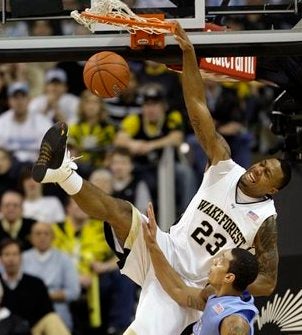 Remember when North Carolina was like ... good? Well, get on the Wake Forest bandwagon while there's still time.
Yes, the Demon Deacons are undefeated and on the rise after dispatching the ACC doormat Tar Heels last night on a network that I apparently don't get. The Tar Heels are now 0-2 in the conference (i.e., terrible) and Wake is now everyone's favorite darling until they lose their first game. But lose or not, the school has a new hero in Jeff Teague (not pictured), who lit up the heels for 34 points, 6 boards and 4 assists, making everyone forget about Chris Paul for at least one night.
There was one small problem however, as Storming The Floor had to take issue with Wake fans, um ... storming the floor. Isn't it a bit unseemly for the supporters of an undefeated, No. 4 ranked team to rush the court after a victory? And also rude to the janitors who have to sweep up after them? You beat a team that lost to Boston College, for pete's sake. Have some self-respect.
Wake Forest's Rapid Rise Continues [The Sports Lounge]
The Curious Case of Wake Forest Storming the Floor Against North Carolina [Storming The Floor]