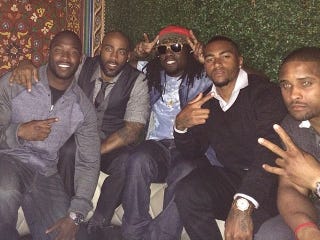 Rapper Wale is helping in Washington's courtship of DeSean Jackson, the two of them hitting the club last night along with Pierre Garcon and DeAngelo Hall. Wale posted the above photo to his Instagram, and ESPN took notice.
Dan Steinberg alerts us to the Twitter conversation that took place this morning, between Wale and the ESPN assignment desk, which is responsible for obtaining permission to use photos and videos on the air.
It should be noted that ESPN is unfailingly punctilious when it comes to permissions, even when it has no need to be. (Very few media outlets would bother asking permission to use something posted to social media, which, in a legal gray area, probably doesn't belong to the user anyway.)
Which is what makes @ESPNAssignDesk secretly one of the funniest Twitter feeds out there. It's delightfully earnest, disarmingly polite, and often charmingly unable to figure out who owns an image. I want to hug it and let it use all the photos it wants.