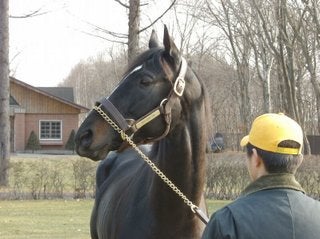 You've probably seen this by now, but, alas, it's still great. War Emblem is tired of the dating scene. Take this farm, for instance; everyone here is such a phony. He'd rather stay in his stall and curl up with a nice Dee Mirich poem, if you want to know the truth. The race horse, who won the Kentucky Derby and the Preakness in 2002, is not exactly fulfilling his stud expectations, according to his handlers. He sired zero foals in 2007 ... the same production as Sir Ian McKellan, and one less than Tom Cruise.
"You name it, we've tried it," Tsunoda confided the other day to the Reuters news service. "We had him on Viagra - that didn't work. It's very odd. He's not impotent. He's just very choosy about his women. He's more human than animal. Basically, he's a bit of a weirdo."
War Emblem was sold to a Japanese breeder in 2004 for $17.7 million, but has sired only 39 foals since; his owners losing an estimated $55 million in stud fees. This of course has led Outsports to speculate that he's gay. I disagree with that. Those Robert Goulet photos in his stall mean nothing!
No Horse Play [CBS Sportsline]
A Stud, Candlelight, And Barry White [The News Tribune]
Popular Stud Says Nay To Mares [Outsports]