The Sacramento Kings went into halftime of tonight's game against the Golden State Warriors with a three-point lead, all the momentum, and 24 minutes of Draymond Green-less basketball ahead of them. Instead of DeMarcus Cousins leading a valiant repeat victory, they ended up crammed in the dang toilet and fossilized Greek big man Georgios Papagiannis logged a career-high seven minutes, more than Cousins played in the second half. The Warriors are as good as any team in the past decade at ripping opponents' hearts out in third quarters with outlandish runs, and tonight they produced their best, most violent work of the season.

What follows is a horror movie.
And now, the Kings' response.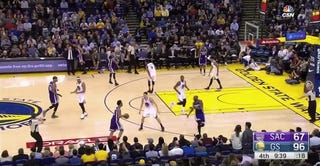 Damnit.