The very first black player to take the field for the very last NFL team to integrate had a short career, a season and a half. His story nearly lost to history, Yahoo Sports tracked down Leroy Jackson for a wide-ranging interview with a depressing conclusion: He believes he was let go by the Washington Redskins after getting caught in a hotel room with a white woman.
The team's founding owner, George Preston Marshall, long resisted integration, holding out 16 years after the rest of pro football started signing black players. He cited a desire not to offend fans in the South, which he considered the team's regional TV base. Others cited Marshall's own openly racist beliefs. It took pressure from President Kennedy to force the 'Skins to finally integrate for the 1962 season—RFK Stadium was owned and operated by the government, and Interior Secretary Stewart Udall threatened to not allow the team to play there if it remained all-white.
Who was the first black 'Skins player? It depends on whom you ask. Heisman Trophy winner Ernie Davis was the first drafted, but Marshall feared losing him to the upstart AFL and traded him to Cleveland for two black players, Jackson and Bobby Mitchell. Washington also signed John Nisby and drafted Ron Hatcher, though Hatcher was cut before the start of the regular season.
Mitchell, Nisby, and Jackson were the team's first three black players on an opening day roster, though Mitchell is best remembered because of his long career. But Jackson, Mitchell's backup at halfback for that 1962 season, served as a kickoff returner—he was the first black player to take the field for Washington in the season opener at Dallas.
G/O Media may get a commission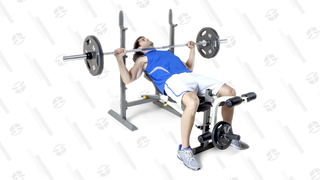 10% Off
Marcy Folding Weight Bench
Jackson didn't get a ton of touches, backing up a Hall of Famer. He carried 49 times for 112 yards that season, scoring once and fumbling twice. The next year he was used even less, and five games into the season he was cut.
The official story is that Jackson fumbled too much. But when Yahoo's Les Carpenter spoke to Jackson's nephew, he got a different story.
"You know the real reason my uncle was cut, don't you?" asks David Irona workout specialist who trains NFL players.

[...]

"It wasn't about fumbles," Irons says.

He pauses for a moment, about to reveal a family secret.

"They cut him because they caught him in a hotel room with a white woman," Irons continues. "Can you believe that? They cut him for something that's so common today. It's unreal."
Irons says he heard this from one of Jackson's brothers; Jackson has never publicly talked about the end of his football career. Carpenter went back to Jackson.
"They said I was fooling around with different people and stuff like that," he says. "But who doesn't fool around? I wasn't married at the time so whatever I did on my own time was my business."

Later he says, "Football was my job, what went on outside was outside."

He stops.

"What else do you want to know about that?" he asks.

Do you think it was about a woman?


"I think it probably was about a woman," he says.

What was the reason you were cut?

"Interracial things and not being able to hold onto the ball," he says.
Jackson says he only found this out after he was let go, and nearly everyone on the '62 staff is now dead, so this version can't ever be confirmed or shot down.
Jackson retired soon after being cut and went to work driving city buses in Washington for 30 years. He then went into security, a job he still works today at the age of 73.
Redskins' forgotten racial pioneer lives with mystery of his short-lived career [Yahoo]