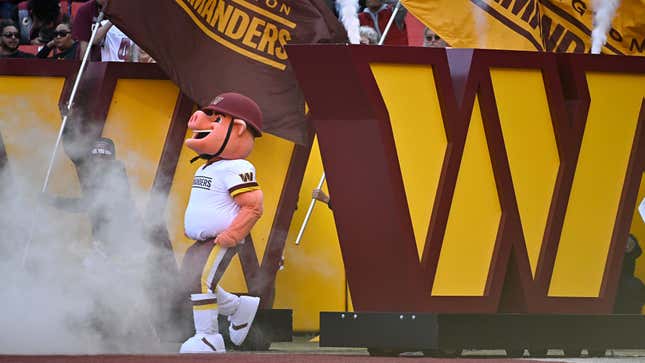 For 90 years, the Washington Commanders have been one of four NFL franchises to exist without a mascot. The Jets, Giants, and Packers are the other three. As part of the organization's complete brand revamp, the Commanders commenced a fan vote for a new mascot and in September the candidates were whittled down to a hog or dog.

Bass' ERA stinks, but not compared to who he is off the mound | Worst of the Week Countdown
Ultimately, the hog won the popular vote, but the fix was always in. It was a nostalgic allusion to their Hogs offensive line of the 1980s that propelled the Commanders to three Super Bowl titles and inspired a devoted sect of cross-dressing fans called the Hogettes to wear pig snout masks, adorn garden party hats on their head every week for thirty years.

Washington's contemporary brain trust introduced Major Tuddy to their fanbase on Sunday. Instead of inspiring pleasant memories, Major Tuddy is a reminder of the lost halcyonic' Jack Kent Cooke era before the Commanders' collapse.

A hog in a battlefield helmet is an inadvertent metaphor for the current state of the Commanders. The office environment is such a pigpen, Congress has investigated and the DC attorney general has filed a lawsuit. A process server would have been a more apropos mascot.
Look at that beaming hog. He's too happy. Tuddy seems blissfully unaware of the maelstrom he's been thrust into the center of. These aren't just the rantings and ravings of someone scorned by two decades of a ruinous organization.
As usual, Dan Snyder can't even roll out a fictional hog mascot without dodging lawsuits. The mascot may not last the eventual purge of all things Snyder anyways. Reportedly, the O-Line Entertainment LLC, formed by original Hogs offensive linemen Joe Jacoby, Mark May, John Riggins, Fred Dean, and Doc Walker, owned two trademarks for Hogs and Original Hogs.

In response to the impending mascot announcement, O-Line's attorney Seth Berenzweig told Front Office Sports last week, "If they go forward on Sunday and make the hog their mascot and try to trademark it, we are going to be forced into trademark infringement litigation."

Major Tuddy seems like he was specifically designed to be visual dopamine in a stadium that feels like it has been awash in Snyder's volcanic ash. Unfortunately, Major Tuddy also debuted in the midst of a three-game losing streak that officially knocked the Commanders out of the postseason race, much to Ron Rivera's surprise. Worst of all, instead of going down with Taylor Heinicke's gritty run, Riverboat Ron subjected the paying ticket holders at FedEx Field to the quarterback stylings of Carson Wentz and his troika of interceptions.
Even the fact sheet on Tuddy is worrisome. He's allegedly 6-foot-5, 230 pounds. Was Dr. Ronny Jackson his physician? With those hefty love handles and that rotund belly bursting out each side of his medium jersey, homey's gotta weigh at least 280 pounds.
There's a creepiness inherent in the dead eyes of most mascots. There's an art to creating a look that doesn't make you suspicious about what it's planning or simpering fool who's got a cheesy grin stuck on their face when the home team is down by three touchdowns in the fourth quarter.
Seattle's Blitz the Seahawk is a frighteningly serious bird, who looks like he'll peck an eye out. A half-smiling, half-sneering mascot like the Eagles' Swoop is a calming presence. Minnesota's Viktor would probably be more befitting of the Commanders. His pensive face has such a wide range of emotions. He's either genuinely joyful like he just pounded back a Scandinavian beer or he appears to be processing a recent trauma.

Alas, one day Major Tuddy is destined to become pork chops. Hopefully, Snyder will beat him to the exits as Snyder follows through on his promise to finally sell the distressed asset he damaged.