We're not sure of the provenance of this footage—it comes to us from reddit, but we're not sure which TV station shot it—but it's all great: the crowd noise, the incredible baseline angle, the media scrum in which the local guy ("YOU STUCK IT BABY!") gets crowded out for a peeved James Brown and the national crew, everything.
Jokic? Embiid? The NBA MVP is obvious... right? | Keep it a Buck(et)
As much we love the on-court action, the highlight might be Jerry Reinsdorf, real estate tycoon, Bulls owner, and for decades one of the most powerful people in sports, miserably biting his nails during the cutaways. He looks absolutely sick to his stomach, and alludes to how anxious he was in the interview at the end. Reinsdorf is standing next to longtime Bulls GM Jerry Krause, who, watching the player that would one day nickname him "Crumbs," looks relatively stoic, even as he gestures with a rolled-up game program.
The sequence that led to The Shot, starts around 1:54 in the video above. Craig Ehlo, from our interview earlier today, on that play:
I remember, Larry got in front of him at the top of the key and I was behind him. That made me relax a little bit, because we had the double team. [Jordan] got the ball and went right, and Larry, who's 6-11, went with him. And then Michael cut right back to his left and that crossed Larry up, and next thing you know I'm by myself with him right at the wing. The double team didn't work at all. I chased him out to the wing, and when I chased him out he was coming right back to the rim. I always had a good defensive stance, but he was so quick that I had to run with him, and when I did I crossed my feet. So when he stopped to pull up for the jumper, I was still running. I kept with him but because I was running, I sort of went by him-but I still had my hand in his face.

The way that game was going, I thought that shot was going in right away.
Check out the full reminiscence if you haven't, and peruse the box score (Corzine played like crap) here.
G/O Media may get a commission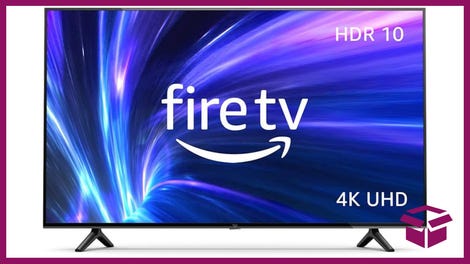 42% Off
Amazon Fire TV 50" 4K Smart TV
Update: An email from a guy who'd know:
The video is definitely from CBS 2 in Chicago. The producer screaming "you stuck it" over and over is named Bob Vasilopoulos (now freelances for network). Cameraman is Chuck Davidson (still a cameraman at CBS 2). The guy interviewing Reinsdorf is Rich King…still a sports anchor in Chicago, now at WGN-TV.