In honor of Michael Jordan's 50th birthday, we reached out to a man who, possibly more than anyone, understands the sneering greatness of Jordan in his prime: Craig Ehlo, the former NBA player (14 seasons with the Rockets, Cavaliers, Hawks, and SuperSonics) who was on the wrong side of "The Shot" in Game 5 of the 1989 Eastern Conference playoffs. Ehlo is now an assistant coach for the Eastern Washington University men's basketball team. We spoke to him by phone on Friday. What follows is his recollection of guarding Jordan, in his words.
I was lucky enough to play in the same division as the Bulls, so not only did we see them in the regular season, but also three or four times in the playoffs. So I saw him extra. I wouldn't say I was the unfortunate one, because still, like my dad always said, you'll be the best when you play the best. I was always thrilled to be in that position.
Usually, Ron Harper would start on him, then I would come in and go to him, and Ron would go to Scottie Pippen or something like that. I always felt very lucky that Coach Wilkens had that faith in me to guard him. Michael was very competitive when he got between the lines. He was never a bad talker or too arrogant, but it was just like what Jason [Williams] said: He'd tell you. He only did that to me one time, from what I remember. It was his 69-point game, and things were going so well for him that I guess he just went for it. We were running up the court side-by-side and he told me: "Listen man, I'm hitting everything, so I'm gonna tell you what I'm gonna do this time and see if you can stop it. You know you can't stop it. You know you can't stop this. You can't guard me.
G/O Media may get a commission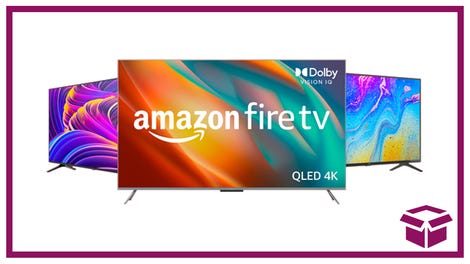 Ooh. stunning.
New Amazon Fire TVs
"I'm gonna catch it on the left elbow, and then I'm gonna drive to the left to the baseline, and then I'm gonna pull up and shoot my fadeaway."
And sure enough ...
Like I said, he was never mean or bad about it. But on that one play I was like, OK, well, if he's gonna tell me what he's going to do, then I'm gonna take advantage of this. And I was right there with him when he did—but sure enough he banked it off the backboard. We were heading back down court, and he gave me that kind of shrugged-shoulder look that you'd always see and he's like: "I told you. I told you." And I just said, "Don't do that again." [Ed. note: We couldn't find this specific play, though there were several similar-seeming candidates to choose from. We've emailed Ehlo with a link to the video and will update if he gets back to us.]
I was right there, step for step with him, just like he said. It was amazing. I guarded it as well as I could. I had the hands up in his face to defend [the shot]. But that's just how good that guy was.
That game, obviously, we lost to him. I'd seen him several times by then. He was one of those guys who just had it all, instinctively. He was naturally gifted, you know? And sometimes I would look at him after a play and just say, "How did you do that?" And he'd sorta say: " I don't know. It just happens."
One time in the playoffs—I forget what year it was, but it was a first-round game. It was a pretty tough game and we were hanging with them. [Jordan] went in for a layup on the fast break, and I was sort of chasing him from behind, and the angle the official had was from behind us. And I contested his shot. The ref was a good two or three feet behind us, and I didn't foul him, but I got called for the foul. Michael made the shot, and the way he landed, he tweaked his knee a little bit. He just landed awkwardly. And then he lay there for about 10 minutes on the floor, and I thought, "Oh no, this guy's really hurt." A whole 10 minutes passed, and as we're waiting the entire arena—17,000 Chicago fans—started yelling, "Ehlo sucks! Ehlo sucks!" I said, I can't believe this. I didn't even foul him but the fans think that I hurt him. And after the game everyone was telling me: "You can't go out tonight. You better stay in your room because these people will hurt you."
The next day in the paper they had all these big pictures about the game and then down below it in the headlines—it was hilarious—was something like, "Jordan Absolves Ehlo From Injury." I remember, I didn't even know what "absolve" meant so I had to look it up. And when I looked it up I realized he was protecting me. That's the other side of Michael.
He was never cruel; he was the same way I was. I hope anyone who plays the game has that real passion for it. It's that idea that when you get between the lines, there's no rules. The game's a war. You do whatever you can to help your team win. But as soon as it was over, there was always a handshake and a "nice job." He never said anything bad about you in the paper or anything.
In Game 5 in 1989, we had scored right before that play, and we took a timeout. [Ed. note: Ehlo himself had scored, to put the Cavs up 100-99 with three seconds remaining. He finished the game with 24 points.] During the T.O. we were like, we know who's gonna get the ball. So we decided to try something we normally didn't do. Wilkens always believed that you always had someone on the ball out of bounds, and that play we took Larry Nance off the ball to double team [Jordan], to see if we could keep him from taking the shot.
I remember, Larry got in front of him at the top of the key and I was behind him. That made me relax a little bit, because we had the double team. [Jordan] got the ball and went right, and Larry, who's 6-11, went with him. And then Michael cut right back to his left and that crossed Larry up, and next thing you know I'm by myself with him right at the wing. The double team didn't work at all. I chased him out to the wing, and when I chased him out he was coming right back to the rim. I always had a good defensive stance, but he was so quick that I had to run with him, and when I did I crossed my feet. So when he stopped to pull up for the jumper, I was still running. I kept with him but because I was running, I sort of went by him—but I still had my hand in his face.
The way that game was going, I thought that shot was going in right away. I saw the flight of the ball, and I knew it was going in. But I was still praying that it would hit the rim and bounce out or something. It did bounce once but then it dropped in, and our season was over with. That's why I fell to the ground—because I just didn't want it to end in that situation. I always tell people, I grew up watching ABC's Wide World of Sports and they had that "agony of defeat" line, you know? And I felt like that guy. It was just agony that we got beat. And then of course I had to watch him jump up and down. And seeing Doug Collins run around only made it worse.
He was so swarmed, we didn't talk afterward. Jim Brown grabbed him for the interview right away.
[At Eastern Washington], we'll go to practice, and the guys will have been watching ESPN Classic the night before, or that Gatorade commercial will come on, and when that happens practice always starts with those guys saying, "Hey coach, you were on TV last night, I saw your play." Then it goes into a big whole, you know—I have to tell the story about how the game went. It's a good thing; it's not a bad thing. I think the kids get a real kick out of it.
I used to do broadcasting for Gonzaga basketball, and Jeremy Pargo—he's from Chicago—would always grab a white kid on the team—the 13th man or whatever—and he'd reenact the whole shot just to give me a hard time. And he was so happy that he could do it and reenact it and still my reaction was never, "Stop that crap." He knew that I could take it.
If you look back—and I've seen the lists over the years—Jordan will list his top 10 shots that he's taken, and that one was at the top for a very long time, because it was the one that kinda propelled the Bulls into that run of championships. You know, they didn't win that year. So he'd say, "That shot helped me get my team past this and this and this ..." Eventually, as he played more, others became his favorite, but that was always at the top. I've had Chicago radio stations call me up and say, like, "Hey, gosh, Craig, we thought you'd have hung yourself by now!" But I was able to play against the best guy who played the game, and I've just never taken it that far. It's just a game.
I couldn't tell you how many times I actually had to guard him one-on-one. Many, many times. I couldn't tell you. And in all that, the two or three that you do actually make a stop on him, you'll remember. I remember one. He kinda did the same move from that 69-point game. He was on the left wing and he drove to baseline and pulled up, and I got my hands up just high enough to make him take a tough shot. I remember that. And once in Chicago he came up on me, dribbling, and I realized he was ready to cross over. And I took a gamble on a hunch and knocked the ball away from him. Think of that: I have five or six of those compared to the 700 or 800 times that he did score on me. But I remember those few where I did something.
I love it when my players bring up that play ["The Shot"] and stuff like that because it makes you feel good. It makes you feel that they understand that there is a history to this game. It's like LeBron saying, I understand and recognize the guys that paved the road for me now and I understand what we have to do for next generation of kids. I hope I'm showing them, also, that the game of basketball—you can take it as seriously as you want to take it, but at the end of day I still have to go home, and I still have to see my kids and love my wife. There's a balance. You can play as hard as you want, but there is always your other side of life that you have to be responsible for. If you leave stuff like that on the floor, there's gonna be room to be happy when you get off.
Related: Watch Raw Footage Of The Shot That Took The Bulls Past The Cavs In 1989, Jerry Reinsdorf's Post-Game Hug With Jordan, And An Amazing Media Scrum