Last night, there was a ballgame in Cuba, between Matanzas and Villa Clara. Mantazas took a 3-0 lead after a solo home run in the 7th inning, and then shit got ridiculous.
Villa Clara pitcher Freddy Alvarez hit one batter in the head with a fastball, and then aimed for a second batter's head just two hitters later. He threw the pitch, but the batter was able to duck out of the way before jogging back to the Matanzas dugout, which wasn't here for the bullshit, and in the process of emptying. The Matanzas players rushed the mound, but the real showdown happened when one Demis Valdes—who wasn't even in the game, mind you—charged Alvarez with his glove and a baseball bat.
First, Valdes and Alvarez threw their gloves at each other. Then Valdes took hold of the bat, planted his feet, and aimed directly for the pitcher's head with one of the prettiest swings you'll ever see.
I mean, look at that fucking cut! Valdes just missed the pitcher, and had to be restrained by several Villa Clara players before the bat was finally wrestled from him by his own teammate.
G/O Media may get a commission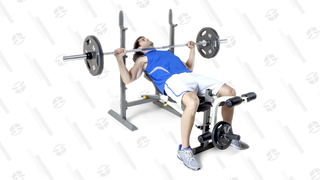 10% Off
Marcy Folding Weight Bench
That got everyone out of their dugouts, and even the bullpens emptied following the stone-cold murder attempt. Players were on the field for five total minutes; the game was delayed for over 20. The umpires finally got control of the game, and if anyone cares, Matanzas held on to win, 3-0. Everyone made it out alive.