So it seems that one of our Waxing Off writers got into hot water with Comcast New England over something she wrote for us. You fired Cameron! You bastards!
Cameron Frye (not her real name) is a freelancer who covers the Bruins for Wicked Good Sports, which is a blog on New England Comcast SportsNet. Or she was working for them, until she was fired last week. Cameron, you see, is also a contributor to Waxing Off, our feature in which female bloggers gather to muse on the week's chosen topic. Back on Dec. 12, when the Visanthe Shiancoe story was just gaining momentum, the Waxing Offers wrote on naked athletes in the locker room.
Cameron's was one of the submissions we included. It was bawdy, insightful, funny; just the way we like 'em. And apparently the way Comcast does not. Her post came to the attention of Inside Track, the Boston Herald's gossip blog. Inside Track called Comcast to get a reaction, and firing of Cameron ensued. Cameron emailed me this morning:
Honestly? I was shocked. I didn't think writing it was going to cause the drama it has. In the grand scheme of things, it wasn't that bad. It's not like I was going into graphic details of what players from the different teams I've covered look like. But I also understand the reasoning behind their decision – I'm not stupid. Do I agree with it? Of course not! But things happen for a reason — now I have a chance to write for Barstool Sports and who knows what else it could lead to down the line. Hopefully discussing Crocs and Roman War Helmets won't be all I'm known for.
G/O Media may get a commission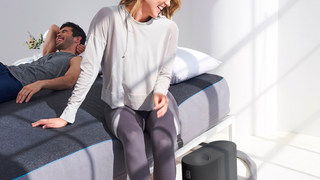 Eight Sleep Pod Cover
When Cameron came to Egypt Town, let my Cameron goooo ...
Yeah, happy ending, I guess: Cameron is now writing for Barstool Sports, which pays actual dollars, not Bruin Bucks, and will allow her to be her creative self. A more complete explanation of the whole episode can be found in Cameron's first piece for Barstool, here.
So you'll have to count on someone else for your bland Bruin tidbits on the Comcast site from now on. Cameron is on to bigger and better things. Although her workdays will contain less nudity, I'm assuming.
My Side Of The Story [Barstool Sports]