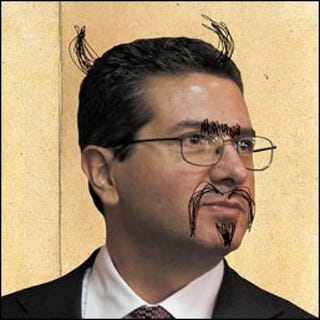 Here's your daily link to Dave McKenna's brilliant "Cranky Redskins Fan's Guide to Dan Snyder," which we'll be posting until Snyder's dumbass libel suit gets absolved of its need to have even existed in the first place. Today's topic: The cross-sport implications of Snyder's insolence.
If you're looking for an NHL-team bandwagon for the upcoming playoff run, take a look at this Snyder quote from a January post on "The Official Redskins Blog." (It says Redskins, so you know he didn't threaten to sue it!)
"[O]ne of the things that I as a Washingtonian — lifelong — recognize is that the city needs winners. The city needs the Redskins to win, but also this year, we hope [Capitals owner] Ted [Leonsis] wins it this year for us. It really is in need of our teams to perform, and I think it's important to the community and I'm looking forward to it."
Take note of how he didn't say he hopes "the Capitals players win" it this year. That's so cute. Anyway, the Capitals face the New York Rangers in the first round, so here's a link to the Rangers Goal Song ringtone.
The City Paper is shorthanded and down a goal. Get out there on the ice and support the weekly's legal defense fund.