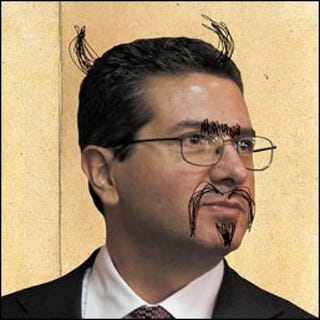 Here's your daily link to Dave McKenna's brilliant "Cranky Redskins Fan's Guide to Dan Snyder," which we'll be posting until Snyder's dumbass libel suit gets publicly ridiculed like a modern day Hester Prynne who plays the victim card early and often instead of wielding dignity as a weapon.
Today's topic: John Calipari. Specifically, a post on CSNWashington from earlier today chronicling a dispute between Wizards/Capitals owner Ted Leonsis and ESPN980's Thom Loverro stemming from "a random blog post about the Wizards potentially (but unlikely) hiring John Calipari to be their coach next season."
Leonsis appeared to take umbrage with The Sports Fix co-host terming the Wizards as an "invisible franchise." That led to the owner taking shots at the AM sports talker's programming choices, that the station owned by Redskins boss Dan Snyder "would never write an article like this about the football team," or that the author wouldn't "have the gumption to do so."
Translation: A fellow sports-franchise owner seems to intimate that kid gloves are necessary when the owner of one's media outlet is a petty, vindictive tyrant. Or something like that.
Be a pal and help the City Paper beat its financial bully. Won't you contribute to the weekly's legal defense fund?