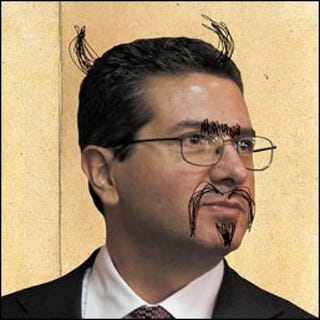 Here's your daily link to Dave McKenna's brilliant "Cranky Redskins Fan's Guide to Dan Snyder," which we'll be posting until Snyder's dumbass libel suit is reduced to nothingness.
Today's topic: Credit where credit's due after just 71 posts. It seems that a firebug torched a shed that housed Mount Airy (Md.) youth baseball's pitching machine, tractor and "thousands of dollars' worth of Little League baseball equipment." This sucked for many reasons, not the least of which is that today's Opening Day.
Among the donors who chipped in to help Mt. Airy's boys get back on the diamond was Snyder's Washington Redskins Charitable Foundation.
"Dan Snyder heard about what happened and was quite touched and wanted to do something," said Redskins spokesman Tony Wyllie. Wyllie explained the purpose of the charitable foundation is to help area youth, and in the past it has assisted many local football teams with expenses.
Very nice of his public-relations savvy foundation, wasn't it? For the sake of both fairness and balance, Century Ford/Dodge/Chrysler/Jeep of Mount Airy also gave $10,000.
What the Washington Redskins Charitable Foundation was for Mt. Airy youth baseball you can be for the Washington City Paper. Tell him a tax-deductible, reputation-boosting gift does not a decent man make by sending a donation to the weekly's legal defense fund.