Here's your daily link to Dave McKenna's brilliant "Cranky Redskins Fan's Guide to Dan Snyder," which we'll be posting until Dan Snyder's dumbass libel suit is consumed by the fires of justice in DC Superior Court, where fires of justice occasionally erupt, possibly in trash cans reserved for frivolous litigation.
Today's entry is about Tom Cruise and comes to us from Marc Tracy at Tablet, a "daily online magazine of Jewish news, ideas, and culture." I almost linked to a few of Tracy's stories yesterday while touching on the subject of whether Jews think the devil image above is anti-Semitic. For his part, Tracy, who is Jewish, does not and is also running the image in solidarity. He thinks instead that Dan Snyder is a "horrible owner" and "despicable," which is how most Redskins fans think, regardless of religion. But a hateful reek still hangs in the air, thanks to Rabbi Abraham Cooper, associate dean of the Simon Wiesenthal Center, who in February farted out an accusation of anti-Semitism against the City Paper on behalf of the center. Tracy called the accusation "particularly idiotic" and "breathtakingly dumb." He also added this:
I wonder what Simon Wiesenthal, an iconoclastic hero who hunted actual Nazis, would make of that? I'm betting he would recognize that there is a risk in crying wolf on anti-Semitism-that the next time an actual anti-Semite steps onto the stage (and there will always be another actual anti-Semite to step onto the stage), and the Center calls him or her out on it, people will remember that ridiculous time the Center blatantly misinterpreted a drawing and sided with a free speech-hating bully against a fantastic and vibrant newspaper, and they will take it a little less seriously.
What does this have to do with Tom Cruise? Well, yesterday, the Wiesenthal Center awarded Cruise its highest honor — the humanitarian award — for the actor's "longtime support of the Wiesenthal Center and its Museum of Tolerance." No specifics. No details. Just awards.
As everyone knows, Tom Cruise and Dan Snyder are chums who can look each other in the eye without lifts. JTA, another Jewish publication, reported that Dan Snyder solicited the anti-Semitic comment from the center but isn't a donor. Cruise, ostensibly, is, given his award. Tracy has been asking for clarification on the center's anti-Semitic accusation for weeks and received no answer. So he is left to wonder:
Does Cruise have something to do with the Simon Wiesenthal Center's seemingly inexplicable involvement? I obviously don't know, although until the Wiesenthal Center calls me back and tells me that they still stand by their charge or no longer do so, I am going to question whether he does. What I do know is that Cruise and Snyder deserve each other, and Redskins fans deserve neither.
G/O Media may get a commission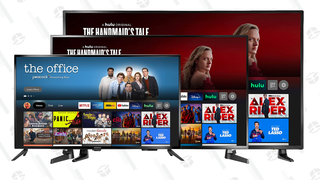 Up to 44% off
Prime Early Access - Insignia Fire TVs
UPDATE: The Atlantic Wire notes that Eran Broshy, who was once the CEO of Snyder Healthcare Services and now sits on the Simon Wiesenthal Center's New York executive board, could also have been a conduit for Dan Snyder to solicit a comment. Or maybe the center acted of its own volition:
Maybe [the center] just genuinely feels that accusing an alt-weekly (with three Jewish editors and one Jewish creative director) of anti-Semitism because it published a silly doodle is a good use of time and resources.
Please help the City Paper stop Scientologists from possibly helping Jews solicit stupid statements from the Simon Wiesenthal Center. Make a donation to the weekly's legal defense fund.