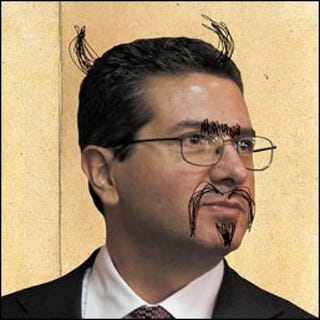 Here's your daily link to Dave McKenna's brilliant "Cranky Redskins Fan's Guide to Dan Snyder," which we'll be posting until Snyder's dumbass libel suit is worth as much as the players' health is to owners demanding an 18-game season.
Tonight's topic: The lockout. Specifically, Snyder's "what me worry" approach to something he didn't think was going to happen as of this Feb. 18 story in the Washington Post.
Snyder was asked earlier this month whether a lockout might affect the team's staffing levels. He offered no assurances.

"First of all, I don't want to speculate on 'if,' " he said. "I actually believe and I'm confident that they'll work out a deal."

Asked if he has a contingency plan for his staffing in the event of a lockout, Snyder said: "There's always planning for all sorts of things, but I'm not focused on that. I'm hopeful and optimistic that he'll get something done. I think [Commissioner Roger Goodell] can do it."
Pre-layoff-letters translation: Sorry, but it ain't my fault.
The City Paper needs your help. Make a donation to the weekly's legal defense fund.