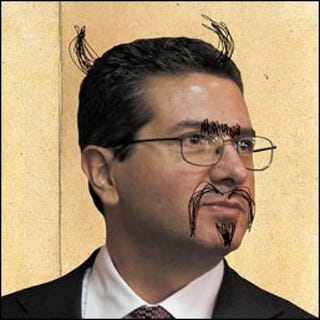 Here's your daily link to Dave McKenna's brilliant "Cranky Redskins Fan's Guide to Dan Snyder," which we'll be posting until Snyder's dumbass libel suit gets Colombian necktied.
Today's topic: A comment from WCP reader "Duh" referencing the number XXX.
How is it a surprise to anyone that a guy who made millions *because* he was a money-hungry asshole — who now happens to own the team he quite literally idolized as a child — remains, in fact, a money-hungry asshole? This leopard's spots haven't ever changed.

Also: How great would it be for PG County to enact some sort of a new licensing fee for pro sports? Like, if you operate a pro sports franchise, then you have to pay XXX million or you get shut down. Anything to siphon millions from Snyder's deep pockets, and put them toward the county's general fund, schools, cop salaries, etc., would be brilliant.
You know what else is brilliant? Making a donation to the weekly's legal defense fund.