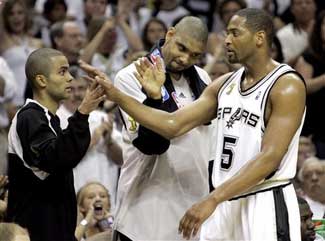 Well, it's certainly starting to look like we're all witnesses to Tim Duncan methodically steamrolling to his fourth NBA title. (That would tie him with Shaq, by the way.) What was most distressing about the Spurs' 103-92 Game 2 win over the Cavaliers last night was that it was over so early; the outcome was not only never in doubt, it was never even in consideration. It seemed over from the opening tip. Even Spurs fans are having trouble keeping their attention.
You want to know how truly lopsided this game was? Well, my friend Matty and I talk during the occasional regular season game. The frequency of phone calls increase as we get further into the post season. We have exchanged literally hundreds of phone calls over the years and not once have we ever talked during actual game play. We've always limited discussion to commercials only... until tonight, during the second quarter. The game, and this series, was that over. O-V-E-R.
Sure, you say, the Cavs were down 2-0 to the Pistons and won the next four. But those two games were relatively close. This one? Well, if you watched "The Sopranos" last night, you didn't miss much here. (Those of us who taped it to watch afterwards hardly found it worth our while.) We congratulate the Spurs. That doesn't make it any more fun.
Damon Jones (+19) is the Answer! [Pounding The Rock]