The ESPN.com comment section has been described as a both a "cesspool" and "a wretched hive of scum and villainy." Deservedly. Bristol's servers bulge with the ill-considered and perpetually ignored thoughts of the unwashed masses, spouted forever into the ether with recesses only to register new aliases after a moderator's ban.
On the ESPN boards, a few strains dominate. Brainwashed fans worry about rich owners overpaying their favorite players; earnest idiots give terrible advice to wayward athletes; and sad sacks plagiarize mediocre Rob Delaney tweets in search of likes. The ESPN commenters lack subtlety but make up for it with pure gusto.
But it's coming to an end on July 17. ESPN will switch over to Facebook-tethered comments, and the writhing morass of anonymity will give way to, well, something a little less special, we imagine. ESPN commenters aren't going down without a fight. For the past week, the most-liked comment on most articles has been some version of a petition to thwart the conversion. Does ESPN care about what the masses want? No. No, it does not.
G/O Media may get a commission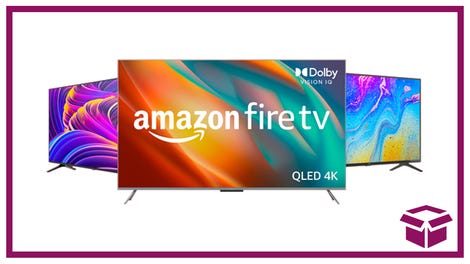 Ooh. stunning.
New Amazon Fire TVs
Before we say goodbye—forever—we wanted to show the internet what it will lose. So we sent a handful of Kinja-trained anthropologists into the fray to document the last gasps of a dying culture. For the expedition, we lined up a few of Deadspin's favorite commenters, and had them don ESPN usernames and enter some ESPN Conversations™.
Deadspin's IronMikeGallego dressed as ESPN's MacaroniInventedtheRadio. Raysism went as BlessedToCommentJohn316. And Albert "Foodspin" Burneko became Testyhorseboobs. Over the course of an hour last week, they dove into the comments section of a few ESPN articles and engaged their denizens.
Burneko's Testyhorseboobs had one goal: to educate his ESPN Conversation partners about the dangers of global warming. It worked too well. After one particularly stichomythic discussion with another concerned citizen about why our elected president wasn't doing anything to stop the volcanoes, Testyhorseboobs was banned. Much like the glaciers of yore, no evidence of his efforts exists today. RIP, Testyhorseboobs.
Our other explorers managed to grasp the customs and ingratiate themselves with the locals. Iron Mike Gallego's MacaroniInventedtheRadio gained credibility by sharing important information. While discussing the article "Chris Paul accepts Clips' extension," his news nugget that Paul and a certain celebrity recently started dating was not only timely but also relevant. (Paul's reticence to leave LA now makes much more sense, for example.)
He also provided key insights into the origins of Paul's prolific talents.
Raysism's BlessedToComment316 also joined the Paul story scrum, but his goal was to pay tribute to the giant shoulders Paul stands on.
BlessedToCommentJohn316 also headed over to the college football section, where various readers engaged in a passionate discussion about whether former Auburn running back Michael Dyer deserves another chance to play college ball.
Our explorer first shared a theory that an on-the-field transition might go well with Dyer's off-the-field maturation.
Then he engaged fellow football fans in a quick discussion about spirituality and morality.
We will miss you, ESPN Conversations. May your takes stay hot forever.
David Goldenberg is an editor at Gelf Magazine, the home of NYC's Varsity Letters reading series.