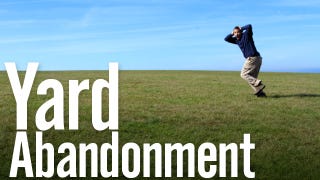 Yesterday, Pittsburgh-area sports columnist John Steigerwald became a viral sensation due to his lunkheaded, insensitive column about the beating of 42-year-old Bryan Stow. Steigerwald tried to defend himself today. Still, he's secured his place in Deadspin's pantheon of "Yard Abandonment" — a reference to the OC Register's Mark Whicker, the original yard abandoner, whose column about Jaycee Dugard was declared to be" the worst piece of sports journalism ever committed to the page." So Congratulations to John on his induction. He won't be the last.
More Yard Abandoners

Brian Grey, Bleacher Report CEO: "Earlier today, a Bleacher Report contributor posted an extremely insensitive piece comparing the devastation in Japan to natural disasters that have affected U.S. sporting events."

Paul Shirley, former ESPN columnist: "Dear Haitians – First of all, kudos on developing the poorest country in the Western Hemisphere. Your commitment to human rights, infrastructure, and birth control should be applauded."

Peter King, SI: "So what would have happened if Tillman hadn't been killed? He'd have been 28 at the time of his scheduled discharge. McGinnis was fired by the Cardinals after the 2003 season, and Ferguson canned after the 2004 season in Seattle. Imagine Tillman being on the free-agent market in 2005."

Vice President Joe Biden: "They loved hunting, fishing, riding horses and four-wheelers. They hated the way Coach Rodriguez left West Virginia for Michigan."

Rick Pitino, Head Coach Louisville:"Times aren't easy, but if I can get through 9/11, I can get through anything in my life. And I got through 9/11 and there's nothing ever going to come close to that. We'll get through this in a positive way and move on."
See More Steigerwald Reaction: